Welcome to my Summer Boredom Busters activities for kids! For July I thought it would be fun to post some ideas to keep your kiddos happy and whining to a minimum!
Today, I have a fun variation to our daily smoothie recipes…freeze them! That's right, I just made our regular smoothie recipe and added a little extra orange juice to them to make them into yummy and healthy summer popsicles!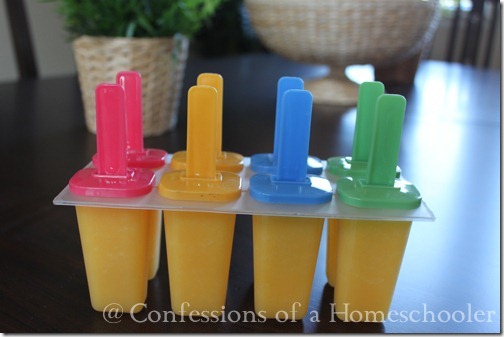 The above Popsicle were done in a Popsicle mold I found in the $1 section at Target.
Ingredients:
1 banana (frozen is better, but I will work at room temp.)
2 cups frozen strawberries (Again, room temp is okay)
1 cup orange juice (Add more as needed until mixture is liquid enough to pour into molds)
1/2 cup vanilla yogurt (We prefer frozen yogurt)
1/2 cup orange juice
Optional: 2-3 teaspoons honey to taste (The plain fruit can be a bit sour, but the orange juice helps with this, so try it before adding honey)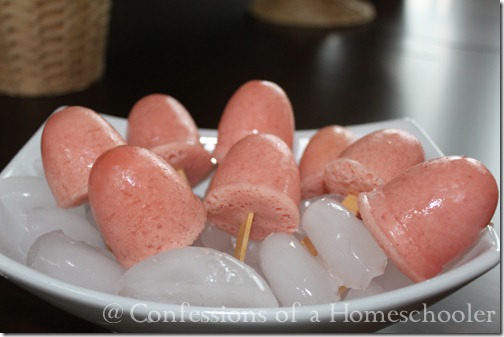 These popsicles were made in a cake-pop silicone mold using our strawberry banana smoothies.
Directions:
Add all ingredients into a blender and mix until smooth. Pour into whatever popsicle molds you have, we found ours at the dollar bin in Target. You can also use fun shaped metal containers, and even silicone cake pop molds!
This usually serves my 4 kiddos and me, but they all get half glasses. If I need a little more, I'll just add in some more milk or juice. It makes the smoothie a bit runny, but no one seems to mind and it's cheaper that way!
Note: Really you can use any type of fruit you prefer! Here are some of our favorites alternatives:
Mango, peach, & banana.
Raspberry, Blueberry, and Strawberry
Watermelon & Cherries (These are best if you use frozen chunks of watermelon)
Pineapple & Tangerine
Apricot & Banana
The best part about these is that you know they're healthy, and the kiddos love them.  What a great summer treat for all these hot days we've been having!
And yes, Tinker Bell had one, she just ate it before I could get the picture crazy kid. NO dessert is safe around her. Seriously.