Hi everyone! I'm so excited today! We've had a great past few giveaways for the upcoming Easter holiday, and today I have another great Biblical giveaway for you!

The brand new Vol. 7 – Exile and Return just released yesterday, and we had the privilege of doing a pre-screening along with a giveaway! Just as the other What's in The Bible? DVDs are, this one is just as entertaining and fun to watch!
Vol. 7 – Exile and Return! includes two 25-minute episodes.
Ezra & Nehemiah: The exile is over, but the Israelites face BIG challenges back home in Judah! The Israelites return home to Judah to rebuild God's temple – a task full of unexpected challenges!
Brave Queen Esther: A brave young Jewish girl risks everything to save her people from doom at the hands of the evil Haman!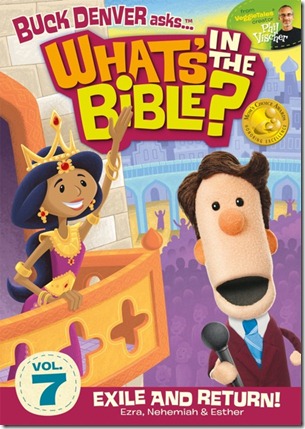 Thanks to the nice folks at What's in The Bible? we were able to have a little party to celebrate the release of this new DVD! We had friends over for some fun coloring pages, snacks, and of course the DVD screening!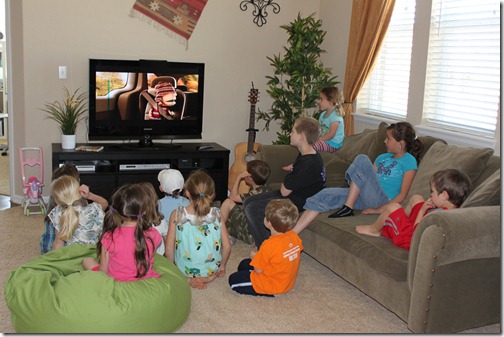 The Cost: $14.99
The Results:
After our screening, I took a vote to see who liked it and why, and who didn't and why. We had 13 children total attend our screening party. I could hear quite a bit of giggling during the show, so I know that for the most part it was a success! They even liked the beginning of the DVD where Buck Denver talks about how he's never done a menu screen before, this was his first time. It's all very cute, entertaining, and educational! And according to 11 out of 13 kiddos, it was also quite funny!
Here are the official tallied results:

   2 of the younger boys said they got a little bored.

  11 kiddos of both genders and a wide range of ages gave it a unanimous thumbs up! They thought it was funny, and all liked the fun characters that were in the show.
I also asked them the questions that come with the DVD just to see how well they paid attention and everyone could answer the questions well, so I think that we'll call it a success!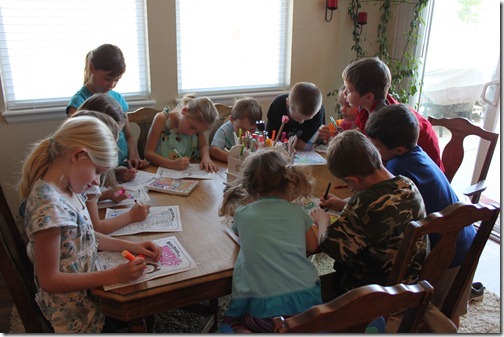 After we were done, everyone had a chance to color a Buck Denver coloring page, then we moved on to some yummy snacks!
My kids are visual learners for the most part, so they remember the Bible a lot better when they SEE it in action! And thanks to VeggieTales creator Phil Vischer, the What's in The Bible?  series of DVD's is the perfect way to do that!
WIN IT!
And just because they love Confessions readers so much, What's in The Bible? is giving away one FULL BUNDLE of Volumes 1-7! (retail value of $104.94) Whoo hoo!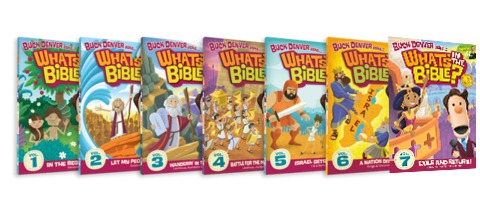 Mandatory Entry:
Simply leave a comment below letting me know why you'd like to win a FREE Set of Vol. 1-7 DVD's!
Nitty Gritty Giveaway Details:
The give away will be open until midnight EST Friday April 6, 2012. Winner will be announced by Sunday April 8, 2012.

No purchase necessary to win.

Must be 18 years of age or older to enter.

If prize winner forfeits or does not claim the prize, prize will be re-awarded at my sole discretion.

Void where prohibited by law.

Make sure to leave a separate comment for each entry, winner will be chosen at random!

This giveaway is offered to US and Canada residents only!

Odds of winning based on number of entries.

This promotion is in no way sponsored, endorsed or administered by, or associated with, Facebook.

NOTE: In order to enter the contest you must leave a comment on my blog post. To leave a comment scroll to the bottom of the post and fill in the "Speak Your Mind" form. (If you are reading this via RSS, you will need to visit my actual blog to post a comment.)
Disclosure: What's in The Bible? provided me with a complimentary set of products to review on my blog. The opinions I have given are mine and may differ from others but were not influenced by the company or the free product provided.