Hi everyone! This week is School Room Week with the IHN Not-Back-ToSchool Blog Hop!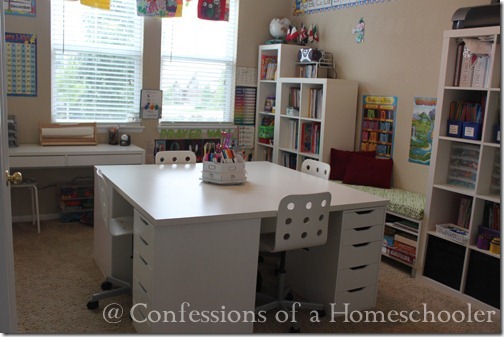 We've stuck with a similar room setup this year, with a few fun additions! The above picture is an overview of our room, and now we'll get into the nitty gritty of our setup!
Along the big wall in our room is an Expedit 17"x15"x72" shelving unit and an Expedit 31"x15"x58" shelving Unit. I keep specific phonics and math manipulatives on the top two shelves. These are things we use often and I didn't want them to get lost in the rest of our things. The shelving unit on the right houses all of my teacher's manuals. They're separated by student, so top left is Strawberry Shortcake, right is Turbo, next row is Tinkerbell and Teeny Tot. The bottom shelves are teacher's manuals for subjects we do as a group.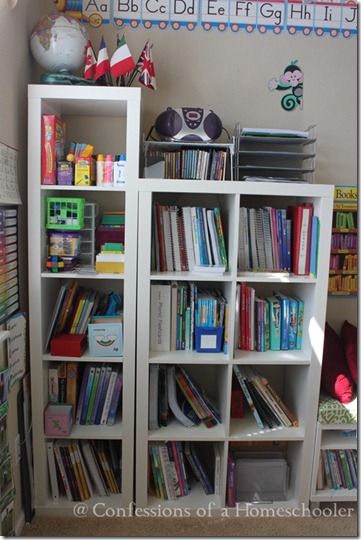 Next to the above shelves is our new reading bench. This was a new addition this year that we love!  I purchased an Ikea Besta shelving unit with adjustable shelves plus Besta round legs. ($50) We made the cute pad specifically for the bench. Stop back by tomorrow and I'll share a tutorial on this super easy and cute bench cushion tomorrow!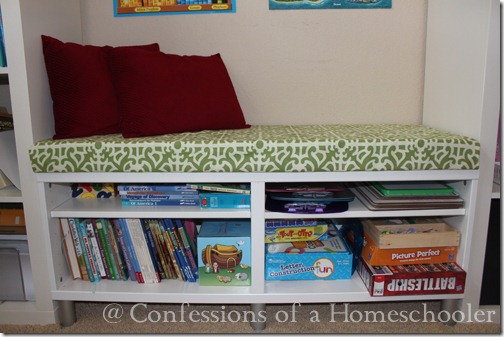 The next shelving unit is the Expedit 25 cubbie shelving unit. The top row are all of my LOTW binders and our school work binders. I keep all of their finished worksheets in their annual binders, then at the end of the year, they go down to the basement for storage.
The next row of blue bins are books, lapbooks, then some other miscellaneous games and activities. Mostly for the Teeny Tot. The Blue Organizer Bins are from Lakeshore Learning.
The next row are one of my favorites. They are Small (10×11) Clear Document Cases from The Container Store. They house all of our manipulatives, math links, alphabet tiles, color cubes, lacing buttons, wooden shape blocks, etc, etc.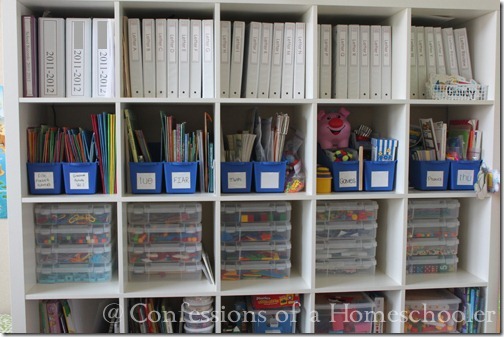 The bottom two shelves are miscellaneous games, etc. Then the bottom is full of DRÖNA Boxes ($4.99) that house puzzles, wooden blocks, coloring books, etc. If you're curious, each cube is 15" deep x 13" high and 13" wide, so there is a LOT of space in these!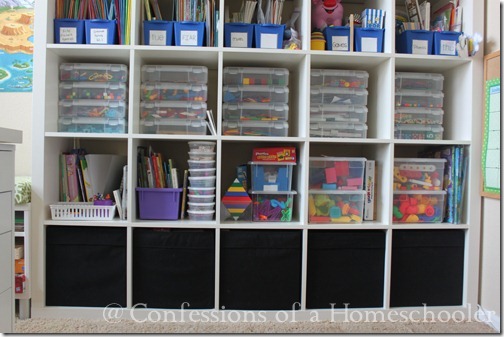 Here is the whole wall for you to see, or as much as I could fit into one photograph!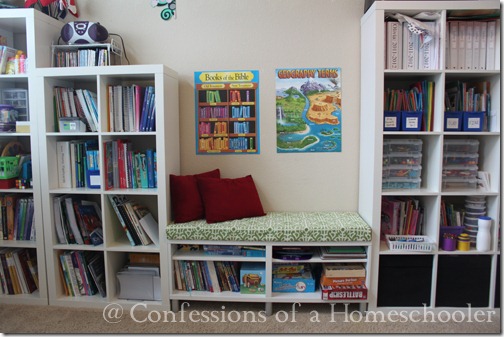 Here is the wall to the right of the shelves. It has our Alphabet Palm Tree, calendar time bulletin board, and All About Spelling board. Along with a few ducks my husband hunted.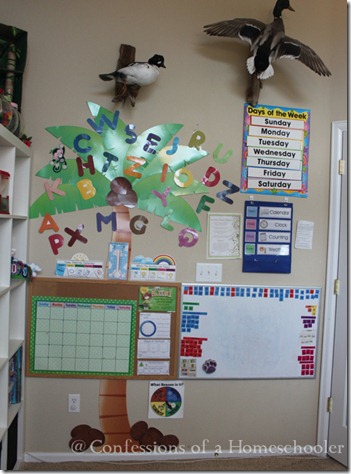 Another new addition is the Micke Desk in white ($69.00). I needed something for the kids to do typing and piano on, plus a workspace for me as well. This one was a great addition because it's not super deep, but its long.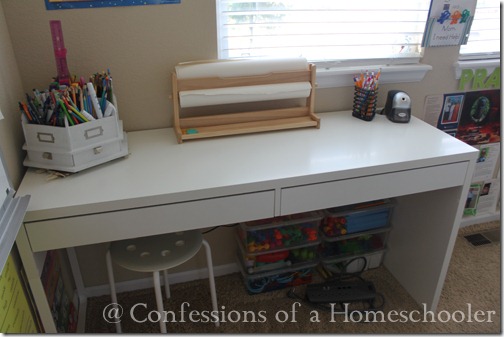 On the desk is a Bosch pencil sharpener, one of my favorite things! It sharpens like nothing else and at record speeds!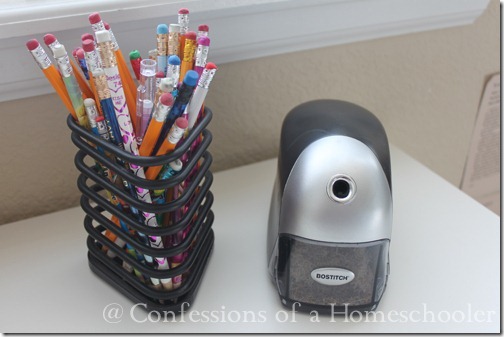 We also have the Mala Tabletop Paper Holder ($6.99) which is awesome! Drawing Paper Roll refills are are $4.99.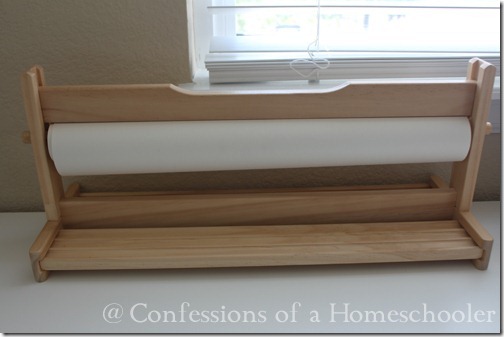 We kept our Ikea Desk setup. It survived the whole last year and still looks great! Whatever it's made of is really easy to clean and has held up well. There are some dents on the sides of our swivel chairs just from banging into the table tops, but otherwise it's held up really well and I'm very pleased with it!  I will have a detailed post on how this is put together tomorrow!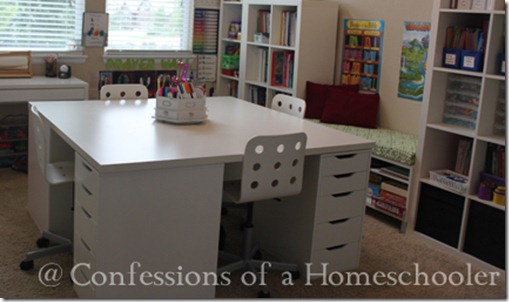 Here is a close up of my Vika Alex Drawer Units $79.00. There are only 5 drawers in these, so right now we're putting two subjects in a couple of the bottom drawers.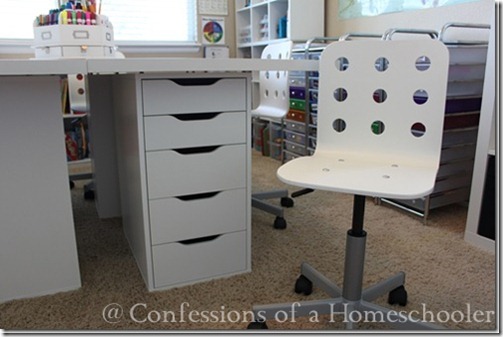 Each of my kiddos has an Expanding Acrylic Drawer Organizer in them with all of the supplies they'll need. This keeps them from getting up a thousand times during class to get something!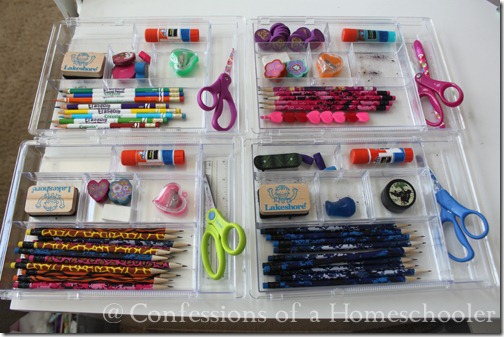 In the center of our desk is this super cool Making Memories Caddy was one of my old scrapbooking items. I dumped out the supplies and filled it with markers. Yep, you know you're a homeschooler when you start sacrificing your scrapbooking supplies in the name of school.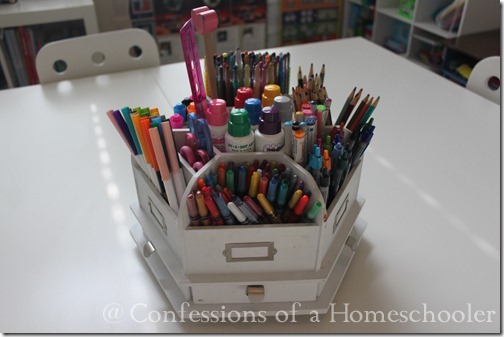 Where'd I Get that?