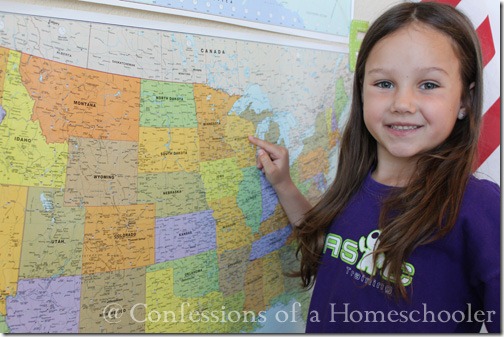 Wisconsin was named the 30th state on May 29, 1848. It is nicknamed "The Badger State" which originally referred to the lead miners of the 1830's, who worked at the Galena lead minds in Illinois. The mines were in northwestern Illinois, close to the Wisconsin border. The miners lived in caves cut into the hillsides which were described as badger dens, and miners were referred to as "badgers". It is a heavily forested area with ample fresh water, which has made it the top paper-producing state in the U.S. Over five million tons of paper pare produced here each year.
Here are some of the things we learned about this week:
Located Wisconsin on our wall map
Read our National Geographic Atlas and located Madison, Wisconsin using the map coordinates.
Worked on our 50 States and Capitals song
Learned about the state and it's flag
State Bird: American Robin
State Flower: Wood Violet
State Animal: The Badger
Famous People: Laura Ingalls Wilder
Homemade Butter Activity
Log Cabin Craft
Food: Cheese!
So here is my white board for the week, we use this to review all of the state facts and symbols each day.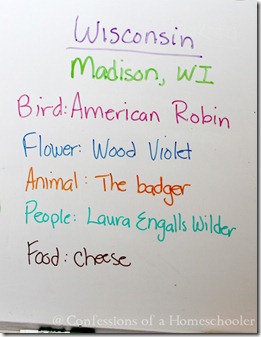 After learning about the animals symbols for Wisconsin, we classified and added the animals to our USA animal wall!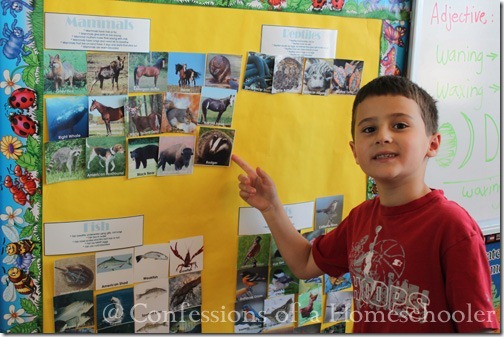 Then Strawberry Shortcake had the honor of adding the state to our wall map.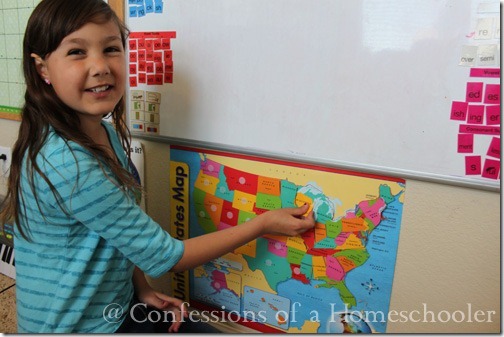 Tinker Bell add Wisconsin to our United States Bulletin. After that we reviewed all of the states we've learned so far on our travels.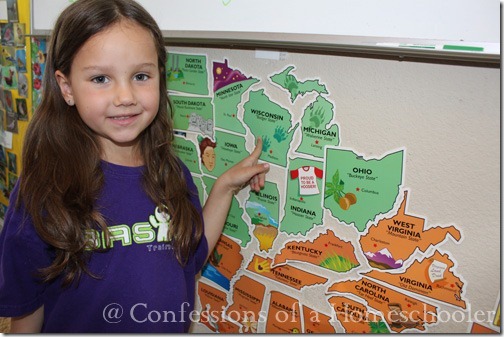 Since it was a review week, we did a state and capital matching game.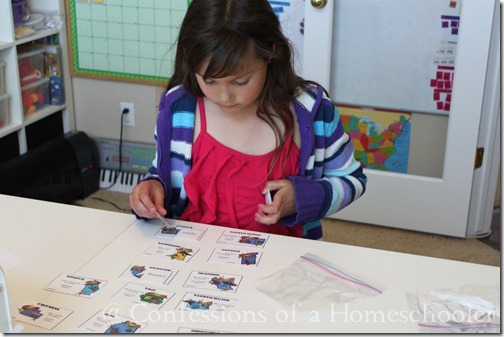 We also did our Midwest review puzzle, they each took turns putting together the puzzle pieces for that region.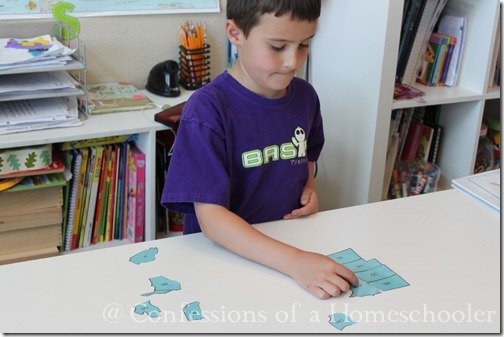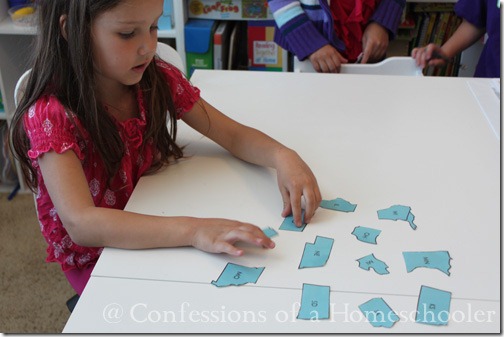 We also read through our Wisconsin Which Way USA magazine.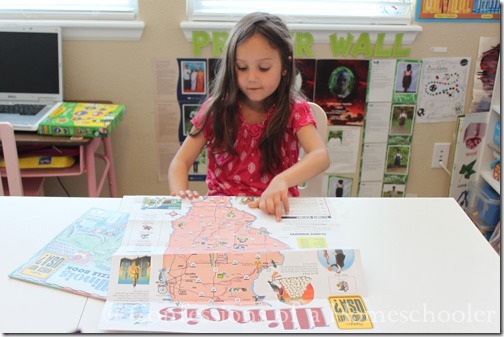 We also added our mini-books to complete our Midwest page.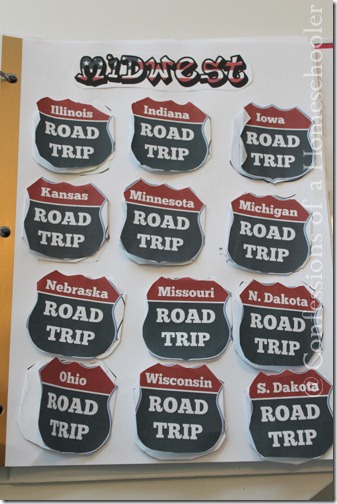 We made a wooden craft sticks. Instructions are in the Road Trip USA curriculum.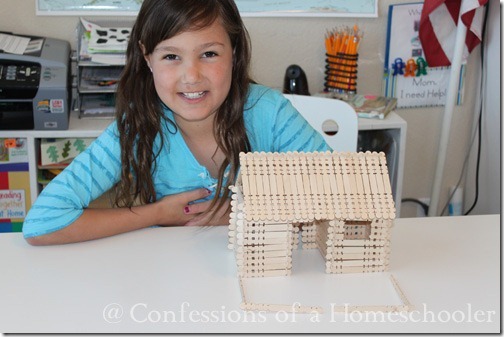 Of course the kids had a chance to color in their state worksheets as we read through all of our information for Wisconsin.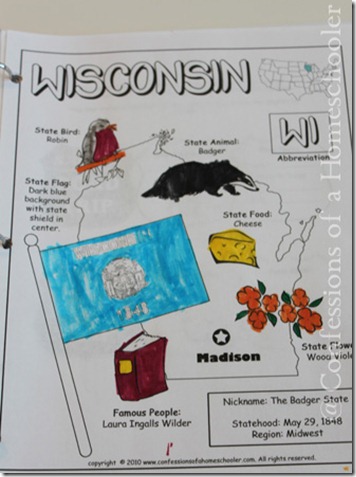 And that ended our journey in Wisconsin, we sealed the deal by adding the state flag to our Travel Journal.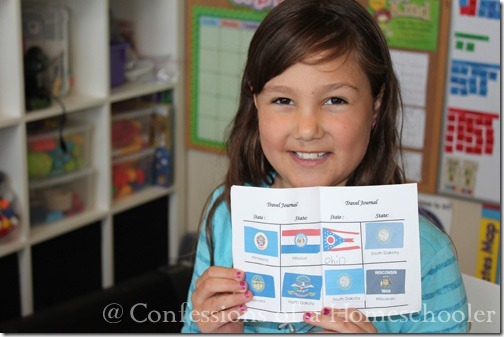 We took turns locating Madison, Wisconsin in our National Geographic Atlas.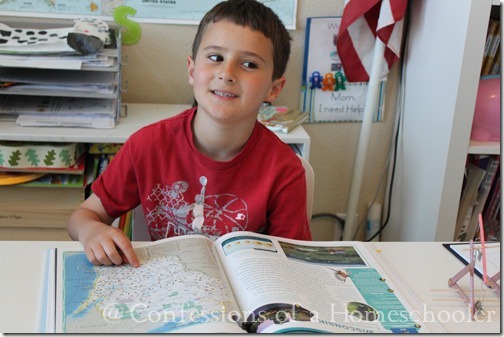 Laura Ingalls Wilder was born February 7, 1867 near Pepin, Wisconsin. In her early childhood Laura's father, Charles Ingalls, settled on land not yet open for homesteading in what was then Indian Territory. The experience formed the basis of her novel "Little House in the Big Woods, and a later move inspired her most well known novel "Little House on the Prairie". Over the course of her life, she authored the "Little House Series".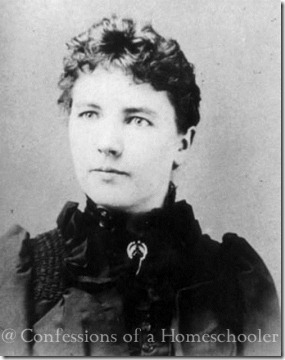 Making butter was a common task in pioneer times. To make your own, you'll need an empty mason jar, and whipping cream. Fill jar approximately half full of whipping cream. Shake vigorously (approx. 15-20 minutes) until butter forms in the jar. Add salt to taste and enjoy on some freshly baked bread!
And that wraps up our Wisconsin study! If you'd like to come along with us on our Road Trip USA journey, click the image below to learn more!