Hi everyone! I'm so excited to be taking part of the launch of Crystal Paine's new Book 21 Days to a More Disciplined Life! You probably already know Crystal from her totally awesome blog Money Saving Mom. If you haven't popped over there, make sure to stop by and share some love! Crystal always has great tips on saving money, coupons, giveaways, and more!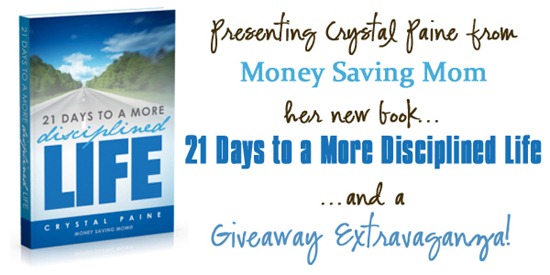 As if her blog wasn't enough, Crystal just launched her new ebook 21 Days to a More Disciplined Life. And for the rest of today you can snag this sweet nugget of information, motivation, and step-by-step help book for just $0.99! And that's not all! She has offered to giveaway 50 free copies to my readers! Yipee!!
My personal thoughts…
One of my favorite things about 21 Days to a More Disciplined Life is that at the end of each chapter there is a practical application section that is a check list of items to complete for that day. By the end of the book not only will you have completed a bunch of tasks that have been piling up on your to-do list, but you will also have developed some great habits to keeping yourself disciplined for the long run!  And there are also several simple small tangible changes you can make to your daily routine that have long term payoff and at the same time boost your productivity!
What You Can Expect to Learn From This Book:
How to prioritize and name your goals so that you can accomplish them faster than ever.
How to expose the obstacles that will come up, and then make a plan to conquer them.
How to break up a goal that feels insurmountable into bite-sized pieces.
How to stop making excuses and get the job done now — and then enjoy the rest of your day!
How to put accountability in place to help you stay on task and motivated.
Now I know you are excited to get your hands on a copy. So, in order to keep my sanity while offering a ridiculously HUGE giveaway of this sweet book, the freebies will go to the first 50 people to comment on this post directly. You will be given a coupon code to use to get it free! Please be merciful here, I'll send out emails as quickly as possible later today…after school of course ;o) ! Please enter the following in your comment so I know what you're after:
"I NEED Crystal's new ebook, Pick me, Pick me!!"
**EDITED: The 50 first winning comments have been emailed with their coupon codes, and no other comments will be taken, if you did not receive an email you were not one of the first 50. I made sure each email address was only counted once. Thank you all for entering! And you can still get your copy by clicking the button below!**
Here's a little excerpt from Crystal herself…
Are you easily overwhelmed by your big ideas or projects, and you just don't know where to start and how to make real progress?

Do you find yourself making "all-or-nothing" plans for transforming your life, and then three days later you crash and burn under the weight of your plan?

My new e-book 21 Days to a More Disciplined Life may be the solution to your frustration


As you know, I have a lot of plates in the air between running Money Saving Mom®, writing, homeschooling, homemaking, and being a wife and mom. I have had to learn, through sink-or-swim techniques, how to integrate more self-discipline into my own life…What I've learned is not rocket science. And the lessons can be applied to anyone, no matter your age or stage in life.
Only $0.99 through 10/25/2012. After that it will go to the regular price of $4.99