Good morning to all of you totally awesome Kindergarten teachers! I've had several requests to make Dolch Sight Word cards, so I thought this cute little caterpillar was a fun way to learn and review sight words! Today I'm sharing the Kindergarten Dolch Sight Word Caterpillar cards with you!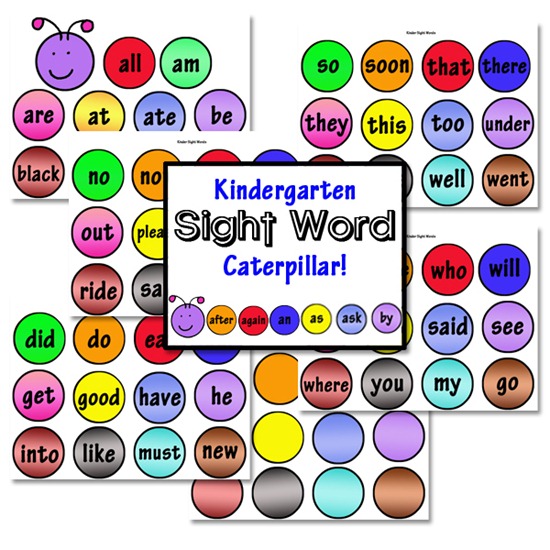 –> Download the Kindergarten Sight Word Caterpillar <–
How to use the caterpillar sight words:
Print pages 3-7 on cardstock and laminate for durability if you choose. Page 8 includes blank caterpillar pieces so you can add your own words!
TIP: Laminate two sheets back to back so the printed sides are facing out, and the blank sides are touching. Run both sheets through your lamination machine, then cut apart and cut out circles. This will create a circle that is laminated on one side, but not on the back side. This helps with creating a backside that is not slippery and can be taped to the wall.
Add the caterpillar head to a blank area of your wall where you plan to add the caterpillar sight word cards. Add each new caterpillar sight word body part to your wall as you learn it. Review your caterpillar cards daily!
And don't worry…
First, Second, and Third Grade sight word caterpillars are coming soon!