Hi everyone! Okay, so if you haven't noticed in the past, Friday is kind of my "fun-whatever" type of post day.
Usually I share recipes, but recently I've found some super great products that I just had to share! Don't worry, I'm not planning to turn this into a Beauty Blog or anything like that, but just wanted to share some cool things I've found with you all!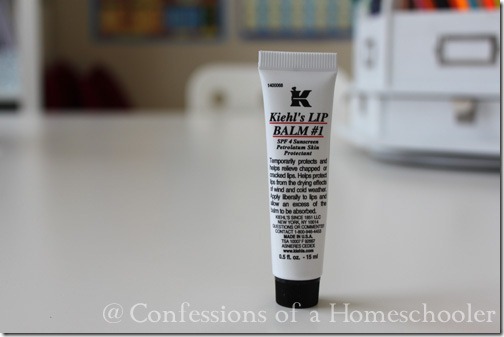 You know for fun…
And because I like to share fun things…
Because…well…they're fun.
Onto today's item! I don't know about you, but since winter hit this year, my skin has been so dry and um, alligator-ish! Ugh. Hate that. Anyway, I've been trying different things to help combat icky flaky skin, and today's feature is for the lips!
Because we all know that putting any type of lipstick on dry-flaky lips is…well…nasty. So, today I have a quick remedy for dry lips and also a great product to help keep them nice and soft this winter! (Although honestly I love this so much I'm sure it'll be my go-to item for summer too!)
So, after quite a bit of searching around, I finally found my holy grail of lip balms…Kiehl's LIP BALM #1. It comes in both tube form like above, and a pot form. Since it's flu season, I didn't really want to dip my finger into a pot of lip balm then smear germs all over my lips. So I opted for the tube.
I put this on all day long, but mostly I purchased it for night time. So every night after washing my face and applying  moisturizer I've been putting on this awesome elixir and just letting it s.o.a.k. in! Then in the morning my lips are all nice and soft like a baby's…well, you get the idea.
Now I realize some of you might be in a pickle because you're heading out and need to get rid of flaky lips like RIGHT NOW! No fear, I have a quick and effective tip to share with you all. And the best part is that the results are immediate!
No seriously.
Immediate.
What you need:
1. Your favorite lip balm. (Don't worry, if you don't have this lip balm you can use anything that is similar, such as a petroleum based balm.)
2. A clean mascara wand (you can get these at most beauty stores for free) or you can also use a toothbrush.
3. You'll also need a warm, damp washcloth.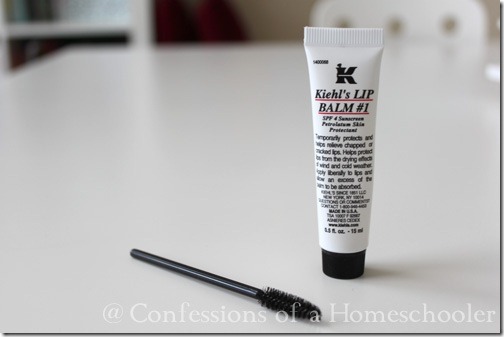 Step 1: Get your washcloth nice and damp using very warm water, not too hot to burn, but definitely warm! Press the warm cloth onto clean lips for about 3-5 minutes. Once the cloth cools off, remove it from your lips. (This just softens the dried skin cells.)
Step 2: Using a clean mascara wand or clean toothbrush and gently rub it along your lips to scrub off the dead skin cells.
Step 3: Smear your favorite lip balm all over lips. If desired, add your favorite lipstick over the top and enjoy your super soft and refreshed lips!
Where to buy:
This item retails for about $7 at Nordstroms: Kiehl's LIP BALM #1, and here's a link to it on Amazon for $9 if prefer free shipping: Kiehl's LIP BALM #1
Disclaimer: This was not a paid advertisement, I am not affiliated with the above mentioned products in any way, just love them and want to share!