Hi everyone! I have my April 2013 monthly meal plan ready for you. I really can't believe how fast this year is going by, and so I'm thankful to have another meal plan to the rescue. They really do help save my sanity and keep my family fed!  Hope you enjoy it, and that it relieves a little bit of your daily stress level.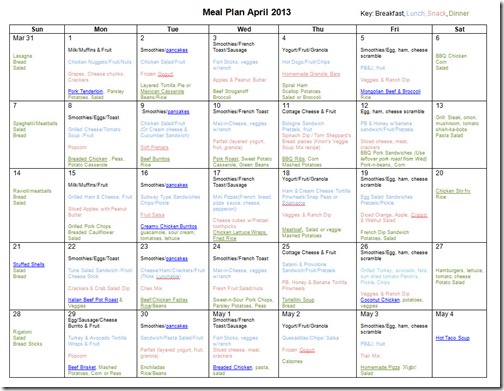 Click below to download your preferred meal plan:
Shopping: I get a lot of questions about when I shop. Right now we have school during the days, and sports in the evenings. So that really only leaves weekends for me to shop right now. So I will typically shop for the up coming week on either Saturday or Sunday. I try to keep my list to only the things on my list so that I have everything for that week. It helps keep my costs down and encourages me to stick to my menu and not order out!
Hope this plan helps you out! And if you have any fun recipes to share, make sure to leave a comment below!