Happy Friday readers! I know I have some homeschool dads out there reading, and for this post I apologize in advance. But today I'm doing another one of my fun Friday posts….on lip gloss.
I know, so girly.
Sorry.
You don't have to stay today.
But come back tomorrow!
Moving on…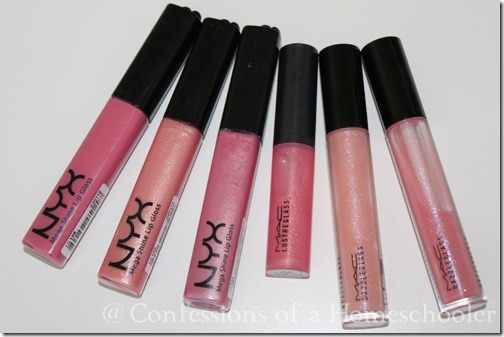 I'm not really a lip stick type of girl, but I almost always have on some sort of lip balm or gloss. I'm not super picky on color, and as you'll see they're all so similar that it doesn't really matter what I grab! I normally just go for whatever gloss I get when reaching into my purse.
But I did want to lay out a few of my favorites for you all…So let's get to it shall we!
As you can see from the below picture, I tend to keep to the same brands when it comes to glosses…I love MAC and NYX products right now. They smell good too. Which if you saw my last beauty tips post, you know is important to me.
Let's start with the NYX lip glosses. These are all in the Mega Shine Lip collection and they're a nice blend of creamy plus shiny. They aren't really sticky which I love, and they smell good. The color is nice, not too pigmented, but enough to be able to see on the lips.
The Mega Shine Lip glosses run about $5 each, so I like that they're affordable.
The first color I'm showing is called Gold Pink (NYXLG131).  It's actually not quite as "pink" as it looks below, it really is more of a golden pink with an almost peachy tint to it.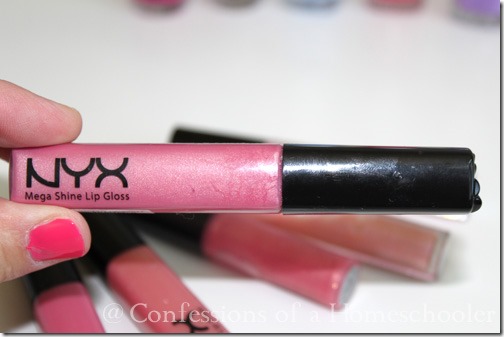 I know you're going to think this is a typo, but the image below shows the NYX gloss in "Beige". Yes, I said beige. Not pink. Beige. I have no clue why they named it beige. it's really a watermelon type pink color in my opinion. The image below is a bit pinker than it is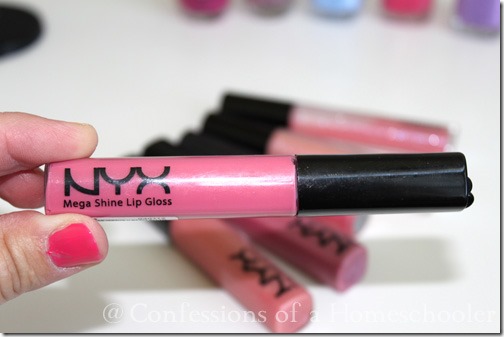 My FAVORITE one from this line is called "Perfect" and it really is the perfect color. It's a nice subtle peachy-pink with a bit of shimmer, but not too much. It tends to go well with pretty much everything I wear. It's really…well…perfect!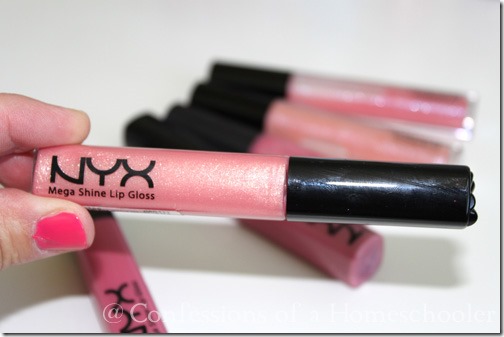 MAC Lip Glass (No it's not a typo, they're actually called lip glass)
One of my favorite things about MAC lip glosses are the vanilla scent to them. It's really one of my favorite scents for lip gloss! One of my least favorite things is the price. Most MAC lip glosses average about $15 each. They do last for quite awhile, so that's a bonus, but still a bit more costly than other brands.
This first one is from the Lustreglass collection and it's in the color PINKARAT A22. It's a pinky gold gloss with a bit of shimmer in it. The only thing I don't love about this one is that for whatever reason, MAC put a small brush (like that in finger nail polish) as the applicator. I really prefer the normal sponge tips like other glosses have, but whatever. It's a great color!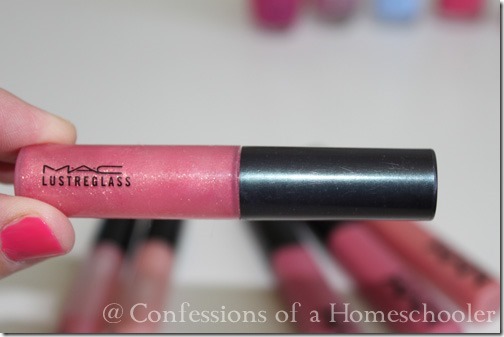 Next up is MAC Dazzleglass in Baby Sparks. This is probably my most FAVORITE gloss in my bag right now. I love the light pink tint along with a little bit of shimmer. It's not sticky either which is a bonus. As you can see from the container, I've used quite a bit of this little gem!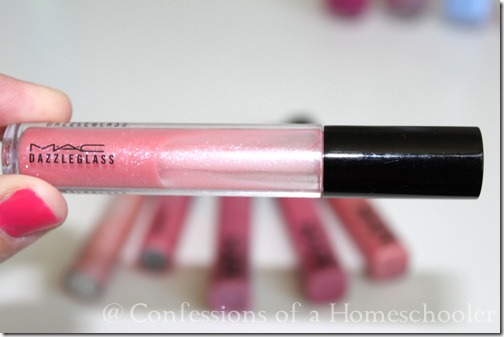 My final gloss is  the MAC Dazzleglass in Sugarrimmed. It's a pale pink with a multi-colored pearl shimmer. Again another of my favorites. And I use it all the time simply because it's a more neutral shade and just gives my lips a little bit of color and shimmer. It's a great color for summer!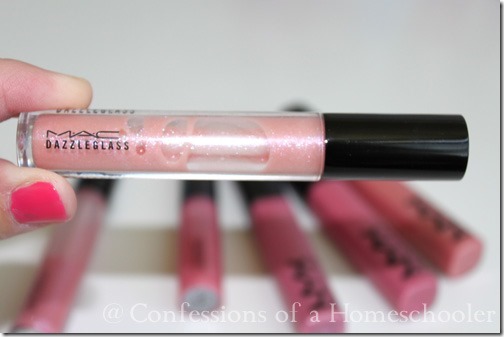 As you can see I veer towards the lighter, more subtle looks, but both brands have a wide range of colors to choose from, so if my pale tints aren't your style, I'm sure they have something more suitable to your taste!
Lip Gloss Storage
Just to keep them handy and easily accessible, I keep all of my glosses in a clear tote that I found at Ulta. It was about $3 or so, and I just toss it in my purse. Then when I need a touch up, I can quickly grab the whole bag, and see what my options are.
Now, I know you see a couple lip sticks in there and so for those of you who are curious they are MAC Creamsheen "Creme in your Coffee" (a kind of mauve color) and MAC Cremesheen in Cream Cup (a pale baby pink color). You can see both a bit better by clicking on the drop down and searching the shade by name on their website.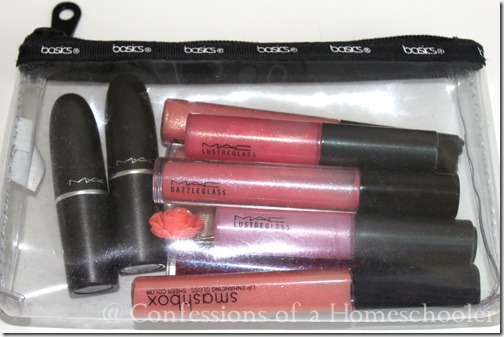 One last thing I almost always have in my bag are a couple of the Maybelline BabyLips balms. They run about $3/each and come in all sorts of flavors and colors. They're also available at most local drugstors and grocers.
I absolutely LOVE these. For one, they're good for my girls as they come in clear, and really pale colors. And two, they're super soft and velvety when you apply them and I love how they make my lips feel!
Plus they're inexpensive, so I don't feel so bad if one gets lost in the suitcase I call my purse when the kids toss them back in.
And for what it's worth, these are the "Teeny Tots" top pick in glosses.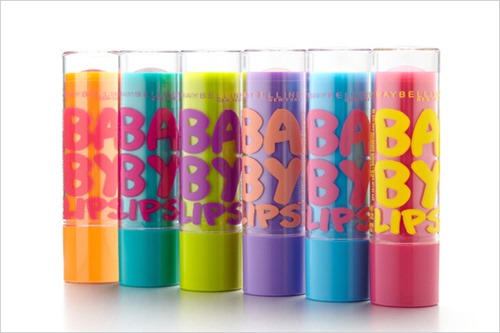 Not into store bought lip glosses?
Make sure to check out my DIY Lip Gloss tutorial to make your own natural version!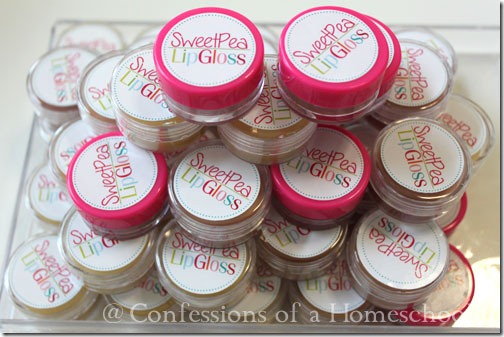 Have a favorite lip gloss or lip product to share?
Leave a comment below telling us your favorite lip product and why you love it!
Disclosure: I was not compensated in anyway for this post or the products mentioned. All products were purchased with my own money and all opinions are my own.