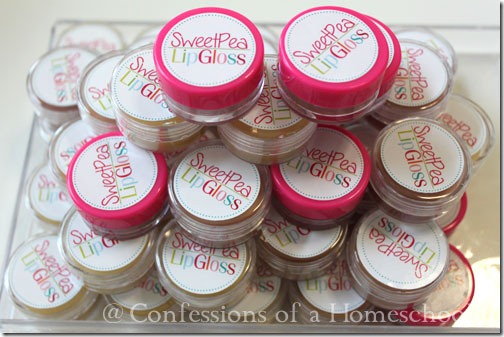 Happy Friday everyone! I'm excited to share a fun activity we did this past week. As you can see from the picture above and the title of this post, we made our own homemade lip balm!
Not only was it fun, but it was much easier than I thought it would be. It's nice to know what we're putting on our lips, plus it was cool to design our own labels too!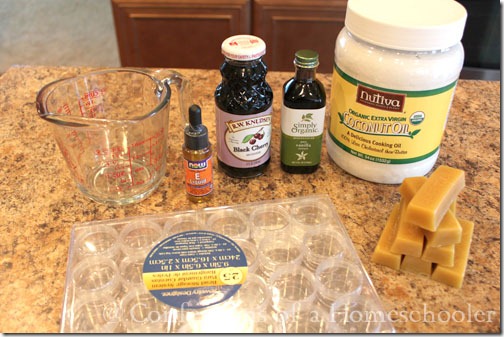 So what do you need to do this with your kiddos?
Other Items:
Sauce pan & metal mason jar lid ring
wooden Spoon
The first step is to place your coconut oil, beeswax, and vitamin e oil into a glass measuring cup. The vitamin-e will act as a moisturizer and preservative, the coconut oil is our moisturizer, and the beeswax will hold everything together.
I would suggest using one you don't care about, or buy one to use only for lip balm. You can wash it out when done, but there's kind of an oily film that doesn't seem to go away.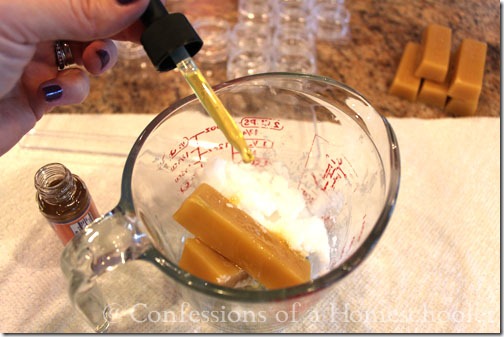 Next, get a pan and fill it about half way with water and bring it to a boil. I also put a metal mason jar lid inside of ours to create a homemade double boiler type contraption. You do not want to place the glass measuring cup right in your pan as it may crack from the heat.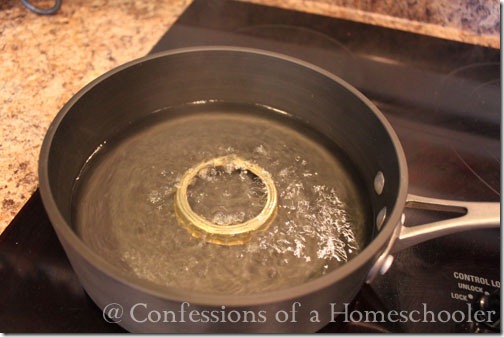 Once the water is at a slight boil, place your glass measuring cup into the water to melt the oils.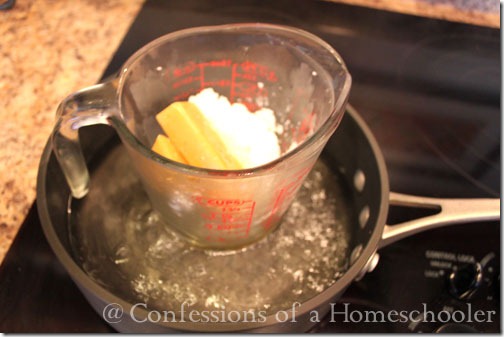 I suggest enlisting a kid or two to help stir, it took us about 15 minutes for all of the oils to fully melt together. While stirring be careful NOT to allow any water to splash into the oils as it can contaminate your balm.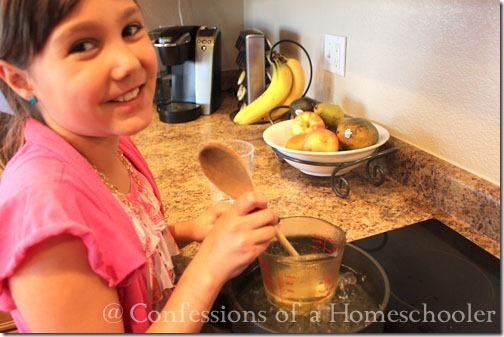 After all of the oils are melted together, the beeswax will take the longest, you should have a nice golden liquid like this: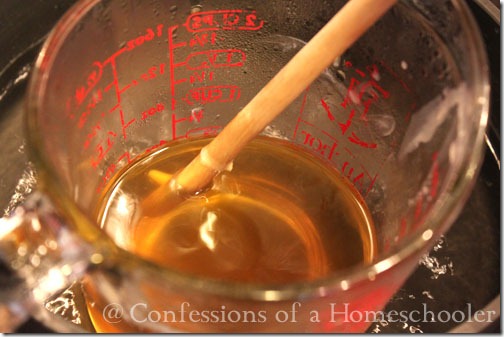 Adding Fragrance & Flavoring to Your Balm: (Optional)
At this stage, you can add in your favorite essential oils for fragrance. Do this while your balm is still over the heat so that the cooler oil doesn't cause your balm to solidify again.
You can skip this step, but I personally don't love the scent of this balm, so we like to add either a vanilla essential oil or peppermint essential oil scent to it using essential oils. You can also add in flavoring if you like, I use Candy  & Baking Flavoring oil such as cherry, watermelon, or spearmint.
Fragrance: Keep in mind some oils are stronger than others, so you might consider adding a few drops at a time until the scent is to your liking.
Flavoring: To test the flavor of your balm, you can dab a small amount onto your lips. Keep in mind that the flavors get a bit stronger as the balm solidifies.
NOTE: I would NOT use Vanilla Extract to scent or flavor your balm as it does NOT mix well with the other oils and you'll end up with a kind of splotchy looking balm.
Once the balm is scented & flavored to your liking, carefully pour it into your containers and allow to cool fully.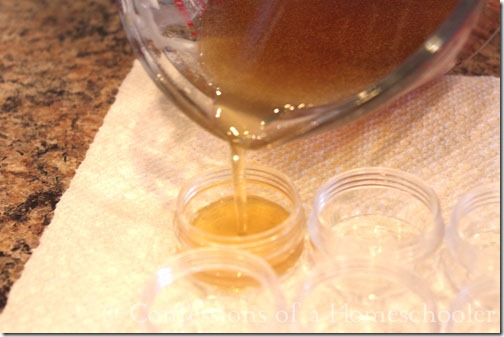 As you can see we made a couple varieties of balms. This one is a nice light yellow color, and is just the basic balm, no coloring.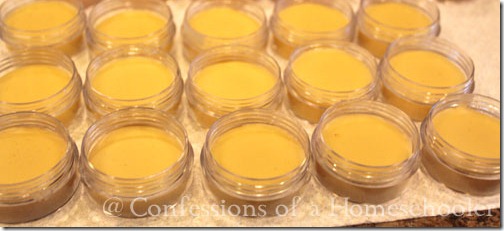 For a more colorful balm, I shaved off a bit of one of my lipsticks and added it to the mixture after all of the oils were melted, then we poured into the containers. This is just enough color to tint the balm, and give a VERY slight pink tint when applied to the lips. I've found that brighter lipsticks provide the best coloring. Next time we'll go for a hot pink lip stick I think.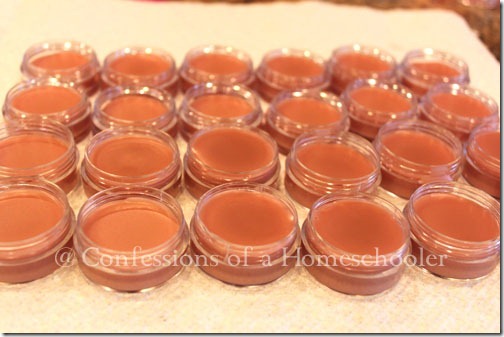 Here are the three shades we ended up with. The yellow one is uncolored, the sort of tan one to the left we tried to color using some organic cherry juice I had. This didn't work quite as well and if you look closely you can see specks in the balm where it didn't quite blend with the oils. The more pigmented one to the right had lipstick coloring added which worked really well, so from here on out this is my preferred method for coloring the balms.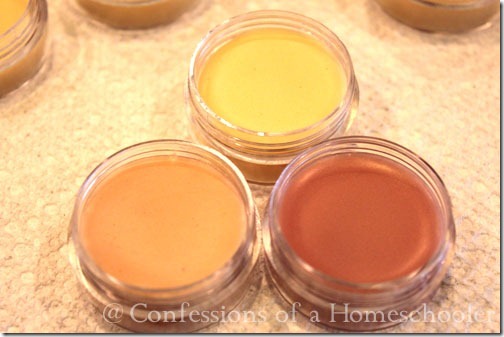 Once the balms were all cooled, we added the lids to them and started working on a design for our labels.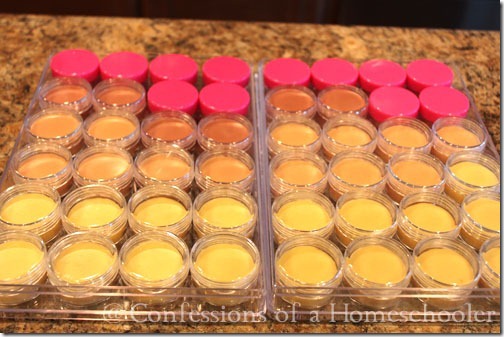 I purchased Avery Full Sheet Label paper from Office Depot, then made these cute lip gloss labels using Photoshop. Next we cut them out with a circle punch, ours was a 1 1/4" circle punch, but you'll want to use whatever fits your containers.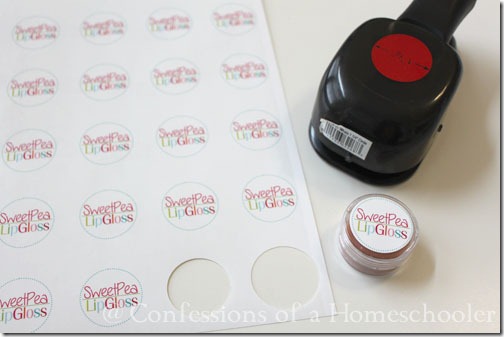 Finally we labeled all of our balms! Aren't they pretty? The girls took them to their friends and sold them for $1 which I thought was funny and quite entrepreneur-ish of them. They didn't however repay their mama for supplies…hmmm…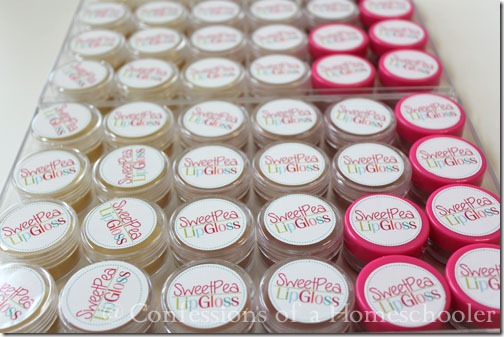 So that's it, our easy homemade lip balm tutorial! The vitamin-e acts as a preservative for the balms, so they should last about one year, but just keep an eye on them for any molding since they're all natural.
I hope you enjoy this recipe, if you have a favorite lip balm recipe to share make sure to leave a comment below! This was so fun, and I'd love to try it again. Since this is a more solid balm, my next venture is to try and create a lip butter that is a bit creamier.
Have a great weekend, and let me know if you end up doing this project with your family!