It was such a blessing when the Super Mom vs Abiding Mom post went viral! And today I have a new version to share with you. With permission, Christin Ditchfield, reworded it a bit to bless not only moms, but all women. And she shared it in a post titled "5 things you can do to have a happier less stressed holiday".
This time of year it's so easy to get caught up in trying to find the perfect gift for everyone, making sure your home looks just "so", sending out the best Christmas card, and trying to meet others expectations for hosting the perfect holiday.
After a few years of family Christmas's I've learned that there's really no way to please everyone. People might not love your gifts, or maybe the food doesn't turn out as you expected. Or if you're like us, at least half of your Christmas lights will be out by the time December 25th rolls around!
But you know what?
The year you burnt the marshmallows on top of the sweet potatoes, and nearly caught your kitchen on fire, will become a fun story to tell! The gift wrapping you slaved over until the wee hours, that made the outsides even more beautiful than the gift itself, will be torn off and tossed.
And the material gifts we give and receive will never truly fulfill our needs. They are just a temporary covering for what our hearts really long for. With time they will get old, they may break, they might not fit so well anymore, and they may even be stolen.
But this year you can share the ultimate gift! The gift of Jesus. His salvation can't be stolen, it won't get broken, it will never grow old, and it will always be just the right size. Jesus meets us where we are, and whatever condition our hearts are in. And His gift is for everyone. God has chosen you! (1 Peter 2:9)
"For God so loved the world, that he gave his only Son, that whoever believes in him should not perish but have eternal life." (John 3:16)
So take a breath sweet reader, and know that God loves you just as you are.  There's no such thing as the "perfect" holiday except one that is centered around Christ, the true meaning and reason behind Christmas. We gather not to receive gifts, but to celebrate the birth of our Savior.
Take a Jesse Tree journey with your family to help keep perspective. And enjoy spending time with family and friends.
And above all, keep your focus on Him this season. Keep your holiday festivities centered around things that will honor Jesus. And you will truly have a wonderful Christmas!
So take a little time to reflect on the verses below. Look them up and meditate on them and use them as encouragement this holiday season.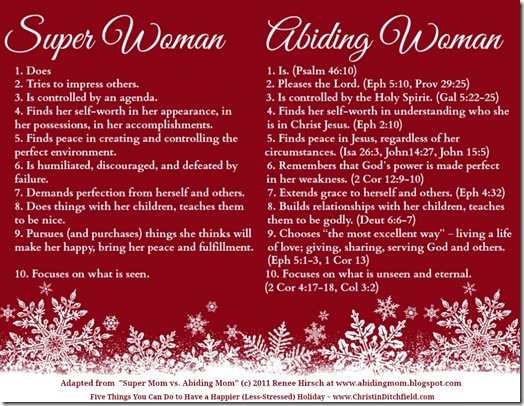 –> Click here to print a copy of Super Woman vs Abiding Woman <–
And finally, I highly suggest you to take a minute and pop over to Christin's website to read her post on a less stressful holiday. It's well worth the read, and a lovely reminder to those of us who over-commit, over-achieve, and over-stress!
For unto you is born this day in the city of David a Savior, who is Christ the Lord. (Luke 2:11)
"Glory to God in the highest, and on earth peace among those with whom he is pleased!" (Luke 2:14)