Thank you so much everyone! I'm so excited!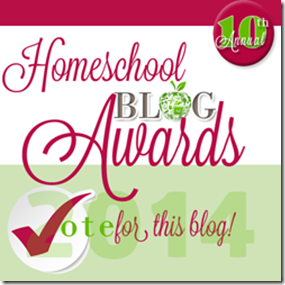 HSBA Best Homeschool Blog Awards voting is now open and COAH has been nominated for the following categories! You can vote by clicking the links below:
I am always honored to be nominated for these awards, and would also appreciate your continued support! As my blog has grown I don't always have time to respond to comments individually, but I do read them and I'm so encouraged by all of your comments and emails. So thank you so much, from the bottom of my heart! Your support means so much to my family and I and it makes our homeschool blog ministry worth every minute!
The HSBA Post Awards are also a great way to find new homeschooling blogs that you may have not heard of before! They have 20 different categories with several blogs in each one, so make sure to check out their voting page and visit some of the amazing homeschooling blogs out there!
To see all of the HSBA 2014 voting categories click here!  Voting will be open until December 29, 2014!
Merry Christmas! And happy blog reading!