Hi sweet readers! I've had a few people say they're not getting my Facebook feeds all of the time.

Unfortunately Facebook likes to only deliver my posts to a few of you without me paying for advertising.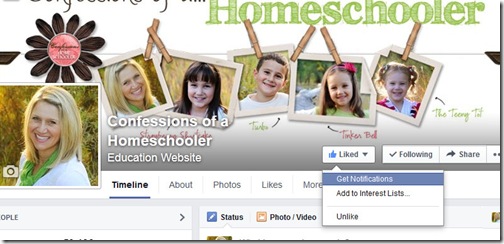 Get My Notifications:
If you'd like to see what we're up to, you can visit the Confessions of a Homeschooler Facebook page, make sure you have clicked "Like" to subscribe.
The button should then say "Liked" and if you click the little drop down arrow next to it there is a "Get Notifications" selection that will make sure the posts go to your feed!
I hope that helps! And thank you so much for all of your encouragement, Confessions wouldn't be any fun with out all of you!!
Yes, I mean YOU, reading this post.
THANK YOU!
And I'll be back next week with some fun giveaways, recipes, and a DIY fall tutorial!