Hi everyone! I know it's a little early, but if you're like me you have to plan ahead a bit to get your homeschooling family out the door and to all of those awesome homeschool conventions! So in the spirit of planning ahead…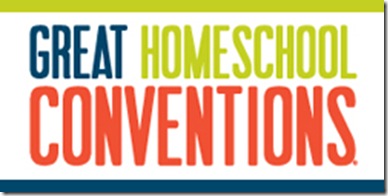 Great Homeschool Conventions is offering a great giveaway package to my readers.  They have conventions in Texas, South Carolina, Ohio, and California coming up in early 2015, so there's no reason why you can't plan ahead and pick one closest to you!
Here are some more details on the GHC upcoming conventions:
Outstanding Speakers – including Dr. Benjamin S. Carson, M.D., (TX) sponsored by WORLD News Group
100s of Information-Packed Workshops, including Homeschooling 101, Special Needs and Gifted, Parenting, and Classical Education specialty tracks
Special session Thursday evening with Holocaust Survivors, Inge Auerbacher (TX, SC, CA) or Dr. Henry Fenichel (OH) – sponsored by Samaritan Ministries
Special session Thursday evening with attorney, former homeschooling mom, and pro-life advocate, Rebecca Kiessling, who was conceived out of brutal rape – sponsored by Personhood Ohio
Mom's Night Out PJ Party with Heidi St. John, sponsored by Mardel
Family Comedy Night with Bob Smiley, sponsored by Sonlight
Special Session Saturday afternoon with Dennis Prager (TX, CA)
An Evening with Benjamin Franklin (SC)
Early Bird Pricing:
GHC offers early bird pricing through 11/15/14 so if you plan to go, make sure to get your tickets now for a discounted price! If you've already purchased tickets, and win the giveaway below, GHC will reimburse you!
What's a homeschool convention?
If you're new, or a veteran homeschooler, conventions are still a great experience. All of the amazing homeschool curriculum vendors meet up to display and share all of their materials. And there are helpful workshops taught on various homeschooling topics by some amazing speakers to help you get started on your journey.
Need help planning for your next convention? Check out these Homeschool Convention Tips BEFORE you go!
WIN IT!
GHC is giving away a Family Pass to Winner's Choice of 2015 Conventions (Texas, South Carolina, Ohio, or California) with up to four (4) tickets to FAMILY COMEDY NIGHT WITH BOB SMILEY and tickets to the REAL FAITH FOR THE REAL WORLD TEEN TRACK.
Value: up to $100