Hi everyone! I can't hardly believe it, but apparently 2013 is just about gone!
I don't know how it's already November.
I feel like this year just flew right by without me noticing.
Apparently I was busy homeschooling or something?
Anyhoo…on to the point of my post today.
I thought it would be fun to share a Christmas Around the World Unit Study with everyone.
This unit is part of my Expedition Earth World Geography, but can also work as a stand-a-lone holiday unit study as well.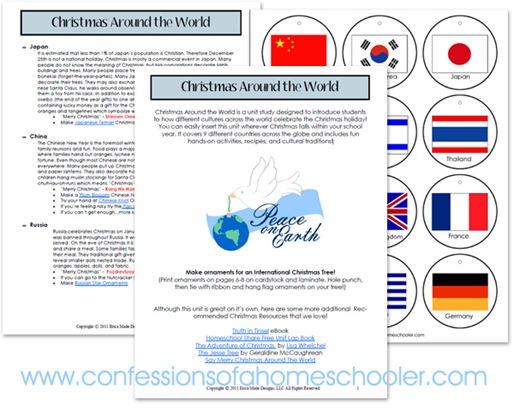 What is it?
Christmas Around the World is a unit study designed to introduce students to how different cultures across the world celebrate the Christmas holiday! Since it's nice and simple, you can easily insert this unit wherever Christmas falls within your school year. It covers 9 different countries across the globe and includes fun hands-on activities, recipes, and cultural traditions!
Since the activities are mostly hands on crafts and recipes it's great for all ages!
What countries are we studying you ask?
Japan
China
Russia
Great Britain
France
Italy
Germany
Spain
Mexico
What's included?
This mini-unit study includes some fun facts for each of the above countries and their customs regarding Christmas celebrations. Included are some fun hands on recipes and activities to help make the study memorable!
It also includes a set of Christmas flag ornaments representing 31 countries that are included in my Expedition Earth curriculum so you can create your own international Christmas tree!
Ready for some Christmas fun?
–> Click here to download the Christmas Around the World Unit Study! <–
I hope you enjoy this little unit study on different ways Christmas is observed across our globe!
Looking for some Christmas activities for your preschooler? Don't forget to check out my free Christmas Preschool Pack!