Dobrey Dyen!
We had so much fun with our Expedition Earth World Geography Curriculum week learning about Russia!
We found Russia on the world map and filled in our mapping worksheet. We review all of the countries and random facts about each one every day just to help us remember! Every one gets their own turn at the map.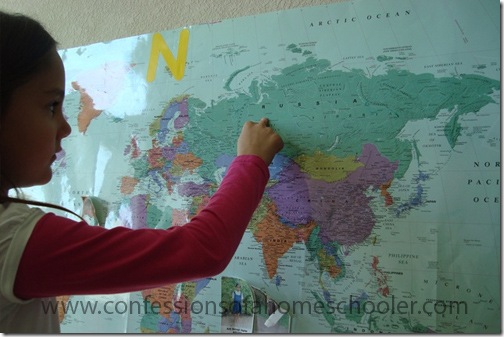 Here are some of the things we learned about:
Where Russia is on the world map & located Moscow
A song in Russian
How to Say ― Hello in Russian: привет (Privyet), Good Day добрый день (Dobrey Dyen)
How to Say ― Thank You in Russian: Спасибо (Spasibo )
How to pray for the Russian people
Listen to Tchaikovsky – Nutcracker
About children in Russia
Studied the Tundra
Completed a Russia lapbook activity
Completed and classified animals of Russia
Learned new Geography terms: Tundra, Plain, Peninsula, Swamp
Learned about the North European Plains, Kamchatka Peninsula & Vasyugan Swamp
Learned major landmarks and other fun facts about Russia
Made a Matryoshka Doll Box
We learned how to spell our names in Russian:
Of course we learned about the Animals of Russia and added them to our Animal Wall:
We worked on our Russia Lapbook component:
We made Matryoshka Doll Boxes and decorated them with stickers, markers and the like:
Instead of going to a Russian restaurant (which we couldn't find) we ventured out on a field trip to a Russian market nearby!
We toured the isles, pulled wrapped candy from the Teeny Tot's mouth…
And finally picked out some yummy Russian chocolate bars to take home as a souvenir!
We finished off our week by filling in our passport and putting on our flag sticker for Russia:
Click here if you'd like to follow along with our Expedition Earth Geography Curriculum Journey!
Expedition Earth is a hands on world geography curriculum that covers 31 countries across the world. It is designed primarily for K-5th grade students. Students will learn the continents, oceans, people, cultures, animals, climates, try new foods, crafts and more, all through hands-on activities!