Hi everyone! I just realized that I haven't done a Teeny Tot Tuesday post in awhile, so I thought I'd better get in gear over here! So today we're going to watch the Teeny Tot tackle the Letter K. Our topic is K for Kite, and you'll also see a few other random activities that she picked out that might not match with our letter, but no harm no foul. So let's get to it…
Welcome to the Letter K for Kite preschool alphabet activities!
Letter K Memory Verse:
"Keep your tongue from evil and your lips from speaking lies." Psalm 34:13
For our verses and accompanying games/stories we use the following books:
ABC Memory Verses & My ABC Bible Verses
Daily Learning Notebook: We always start off our day with our Daily Learning Notebook. This is of course the preschool level version, but I have an elementary level, and a cursive version as well.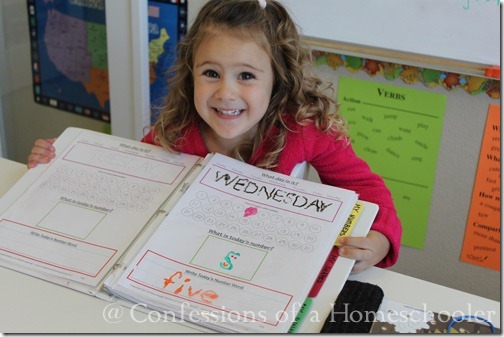 Alphabet Tile Sorting Game:Today I had her do a letter K sorting game. I gave her several different alphabet tiles and had her pick out just the letter K tiles.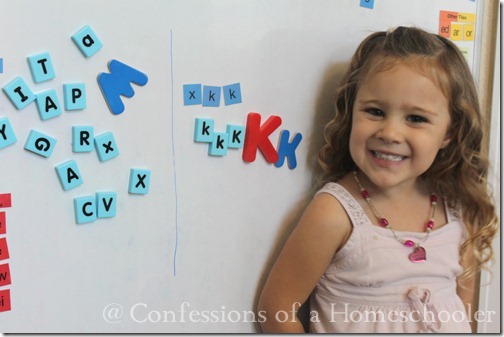 Large Floor Numbers: One of her favorite games is the large floor numbers. We always lay them out together, she helps me put them in order and then I call out numbers randomly, call them out in order, and then we even go backwards from 10 to 1 as well. It's all great practice for number recognition, plus she gets to hop all over the place which helps get out some of the wiggles!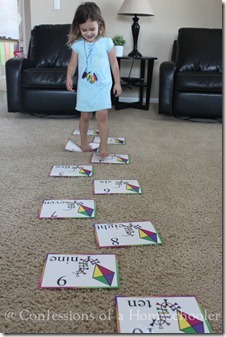 Do-A-Dot Markers: Of course another favorite is the do-a-dot worksheets. Her is her letter K do-a-dot, and she did a great job doing one dot in each circle on the page.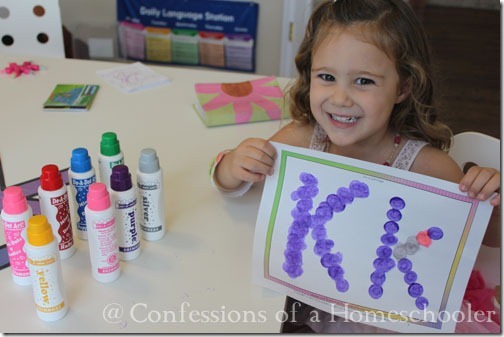 Scissor Skills: Each of my Letter activities  includes a scissor skills page. I'm really happy with the progress that she's made with these. I wanted to mention that when she started with the scissor skills pages, she couldn't cut along the lines at all. But through the year and practicing each week, she's now able to cut along the lines quite precisely, even the harder shaped lines as well. So I just wanted to encourage you not to be too hard on your kiddos, but just let them continue to practice with them and they'll get the hang of controlling those crazy scissors in no time!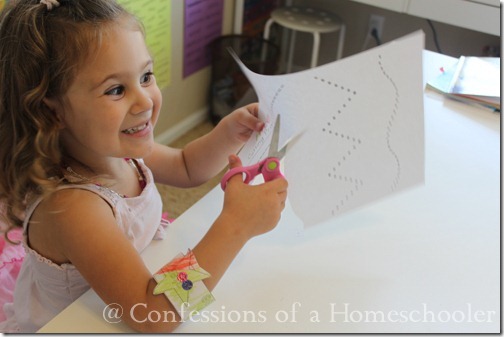 Alphabet Alley Magnetic Set: Here's another fun activity, It doesn't really have much to do with the letter K, but the Teeny Tot loves playing with these magnetic sets from Alphabet Alley! She pulls them out quite frequently and loads them into her own workboxes! This one is the Good News Easter Magnetic Playset.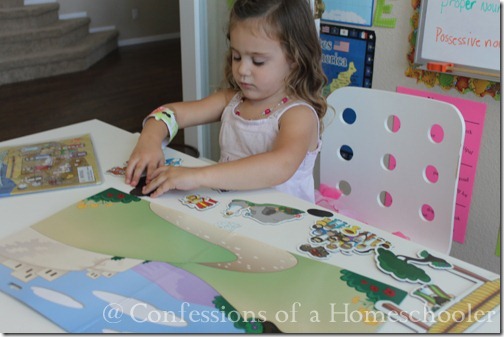 Shapes: Here the Teeny Tot is working on her shapes and numbers pages in her Daily Learning Notebook. Normally I have her do just one letter, shape, and color per week, but sometimes she just likes to keep on going and colors more than one.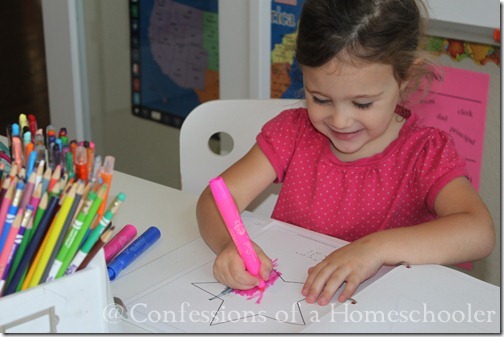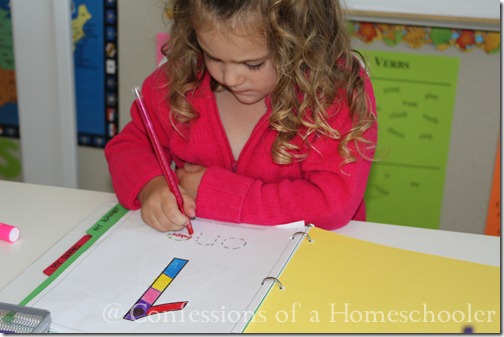 Letter K Collage: These collage pages are part of my Letter of the Week preschool curriculum, and I usually have her glue something fun to them like kites, or Kellogg cereal or something like that. Today I put a letter "k" stamp and ink pad in there and she will stamp little letter k's all over the page.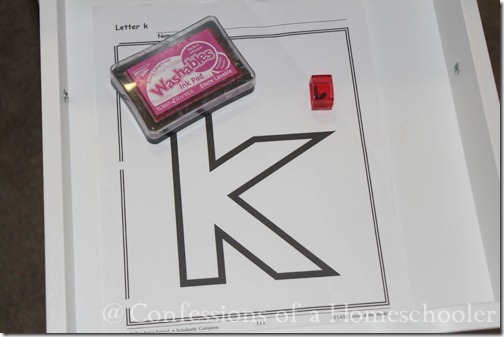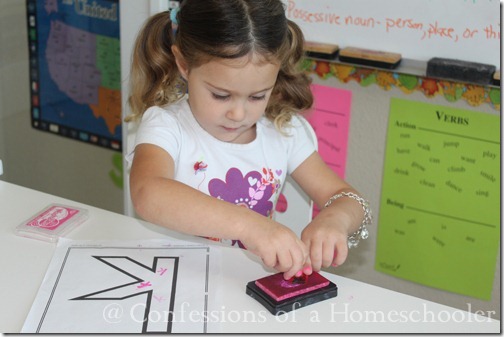 Puzzle: Another favorite from Alphabet Alley are their puzzles. I love how big the pieces are and also how durable they are. This one is the Noah's Ark Jigsaw Puzzle and it's just $5.99. Puzzles are a great way to work on logical thinking skills!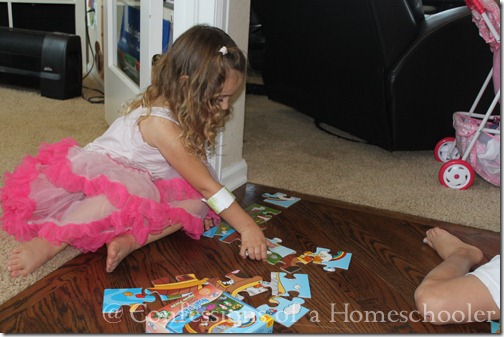 Memory Bracelet: We're a little behind on our bracelets, but I did put a few of these in her drawer to get caught up. She'll color the bracelet, then cut it out and we just glue the edges to make it into a bracelet for her to wear around for the day. Randomly I'll ask her what the items on her bracelet are throughout that day to help her memorize them.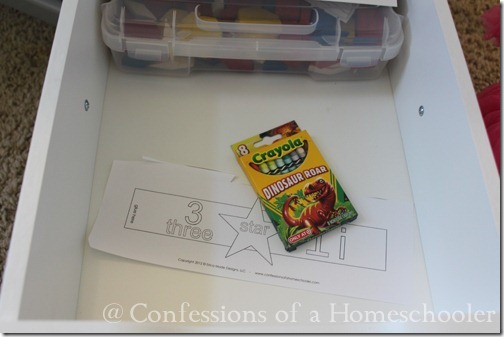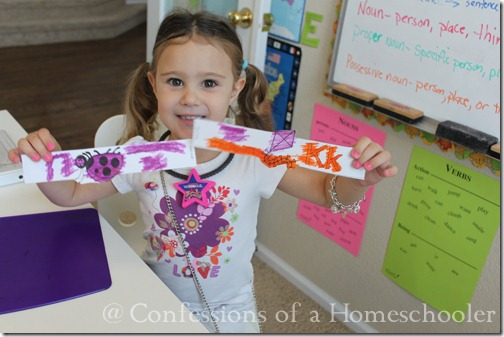 Block Patterns: Okay, so this one is more of a color matching it looks like than a pattern activity. But normally I have her do a pattern on her letter shapes. These letters are just printed on construction paper, then laminated. I used my Letter Collage Worksheets to print them out. Here are links to them if you're so inclined: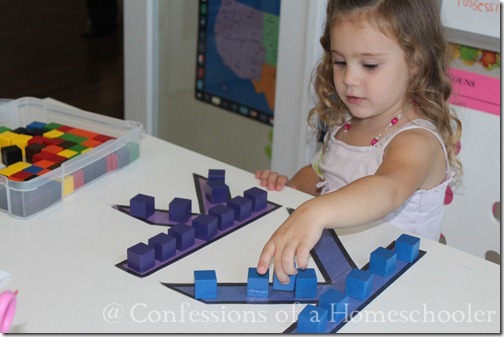 Read Chicka Chicka Boom Boom and put up the letter K on our Alphabet Tree! You can download my small alphabet letters here.
11 x 11 Pin Geoboard: We use these to make letters, numbers, shapes etc!

Finger Tracing Paint Bag: This is simple and fun, I filled a bag with tempura paint, you could also use cheap shaving cream. Then I'll tape it to her desk for her to practice writing her letter on using her finger. You could also skip the bag and put shaving cream on your counter if you're feeling brave ;o) After we do the letters we do numbers, shapes, and whatever else we can think of!

Family Fun Night: Have some Kellogg's Special K or if you're not on a diet, you could always go for a Krispy Kreme! And watch: Veggie Tales: King George and the Ducky, or The Lion King
Have some preschool fun you'd like to share? Make sure to leave a comment below!
So those are just some of what I managed to capture via photos this week, but you can click here to download all of the Letter K for Kite activities, or check out my Letter of the Week preschool curriculum to get the entire alphabet all at once!