Hi everyone, I hope you're having a wonderful day!
Today I have some fun Kindergarten Dot-to-dot worksheets to share with you all! They of course go with my k4 Kindergarten curriculum, and if you've purchased the curriculum anytime AFTER 7/20/14 this file is included in your download! If you purchased prior to that date, or just want to add it to whatever you're using currently, download it here for free and add it into your daily lessons!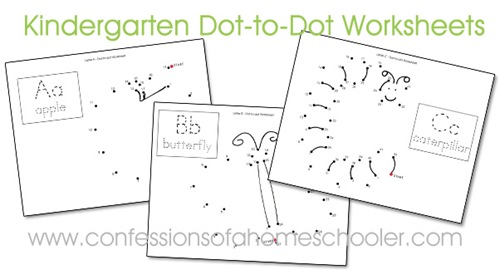 Each kindergarten dot-to-dot worksheet goes along with a letter theme from my Letter of the Week program, but it's made a little more challenging for those awesome kindergarteners out there.
Number Practice:
The dot-to-dot worksheets help teach students number recognition, counting, and number order. While at the same time correlating with a letter from the alphabet so you're working on several skills at once.
Phonics Practice:
As your student completes the dot-to-dot they can then color in the image if they like, and of course trace over the letter and corresponding themed word. Make sure to help your student read the word to go with the picture!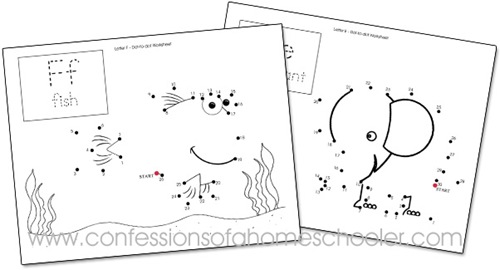 –> DOWNLOAD KINDERGARTEN DOT-TO-DOT WORKSHEETS HERE! <–
(Note: If the file doesn't open in your browser, RIGHT click on the download link, then select "Save As". The file will download to your computer, then you can open and enjoy!)
Like This Download?
I hope you enjoy these worksheets in your homeschool, if so leave a comment below letting me know!
Is the Letter of the Week Preschool preschool curriculum too easy for your student? Are you ready for something a little more challenging? Then the K4 Kindergarten Curriculum is for you! The K4 Curriculum is geared towards kids ages 4-5 who are kindergarten ready and want a fun hands-on kindergarten curriculum. All of the items you see in this post, plus a ton of extras including lesson plans are included in the K4 Kindergarten curriculum.