Hi everyone! I'm back today with another Homeschooling 101 post.  Today we're talking about homeschooling and the working parent.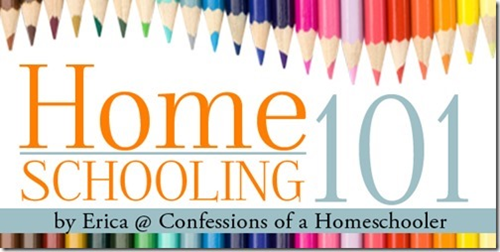 Homeschooling itself is a full time job, so carefully consider whether or not working and homeschooling is a realistic choice for your family.
While homeschooling doesn't take the same amount of time as classroom teaching does, you will still need to follow your state requirements for attendance and annual hours. And regardless of your student's ages, it will also require a certain amount of daily commitment on your part.
That said, "Yes! You can homeschool and work". But make no mistake…it isn't going to be easy.
There are a couple reasons why someone may need to homeschool and work. The most common occurrence is the single parent. Others may be concerned that they won't be able to make it on one salary. Whatever your reason, there are several families who have found ways to both homeschool and work.
If you are in the camp of having two working parents, I encourage you to consider your budget priorities and see if there is a way to get by on one salary. As I said before homeschooling is a full time career choice, and you may find that you can get by on one salary by making some adjustments to your family's budget, or even pairing down to part-time work as opposed to full-time.
Here are a few helpful tips to make homeschooling and working easier.
Pray
Most importantly pray for God to reveal His will for your family. If He is calling you to homeschool, He will also provide you with the means to do that. It will most likely mean making some changes, but with Christ all things are possible. He will make a way for your homeschooling journey if you allow Him to.
Look for a job that is flexible
As most of you know, I am author of the homeschooling blog www.confessionsofahomeschooler.com. While I didn't originally intend this to become a career path, thanks to my readers, it has on some level become a "job". Thankfully being "self-employed" as such, I can set my own hours. That means I am free to homeschool during the day, and then work in the evenings.
If you already have a job, talk to your boss and see if there is a way you can work from home part time, or if they will allow you to adjust your hours so it better fits your homeschooling needs. If possible, arrange your schedule and your spouse's schedule, so parents can co-teach. That way they will both be involved in the homeschooling process.
If you are passionate about homeschooling, but find it isn't feasible in your current job, consider finding a new job that will better fit your goals.
Create a realistic schedule
Keep in mind your unique situation and help create a schedule that fits both the needs of your work and your homeschool. The time of day which you do school is typically not mandated by most state regulations, so getting out of the traditional school schedule may go a long way in helping you successfully homeschool.
If your career requires you work during the day, consider doing school in the afternoons, evenings, or on weekends. When you're a homeschooling and working parent flexibility is your best friend!
Use curriculum that matches your needs
If you need to work full time consider using an online homeschooling curriculum, or DVD curriculum. While this certainly works better for older students, it can greatly help the working and homeschooling parent. Another option is to choose curriculum that does not require a large amount of pre-planning on your part to make your schooling easier.
Plan ahead
It is essential for the working parent to plan ahead. Having your homeschooling day well planned and setup for your student will go a long way to getting school completed each day. This will require preparation on your part, but the more work you do ahead of time, the less chaos will ensue during school time.
Consider getting help
If your job requires you work during the day, you might want to consider hiring a helper to look after your children while you work. If you cannot work from home, you will need to arrange somewhere for your children to go during the day while you are away.
You'll also want to consider basic house duties. Can you split them up between the members of your family, or will you need to get help with housework, laundry, and meals? One good way to help with meal time is to consider once-a-month cooking, and freezer meals. Having dinners prepared ahead of time is a great way to alleviate some of the stress of a working parent!
If possible enlist a friend or family member to help take your children to extracurricular activities.
Homeschool co-ops
Homeschool co-ops are a great way to give you some time off while also giving your children the opportunity to partake in classes you might not be able to do at home. Some co-ops require parent participation, while others allow you to drop off students.
Most co-ops offer social activities for students such as field trips, spelling bees, geography and science fairs, as well as homeschooling parent nights where you can develop friendships and support for your homeschooling journey.
For more information on homeschooling check out my Homeschooling 101: A guide to getting started!