Hi everyone! I recently saw the cutest bag ever, and knew right away I wanted to try it. It's the Market Bag Tutorial from Redheart and it's super cute!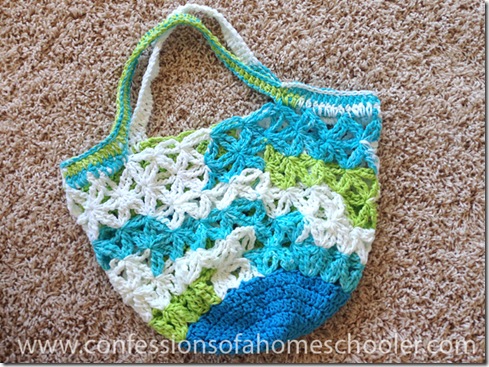 Keeping in line with my usual demeanor, I didn't follow the directions exactly. I wanted to make something a little smaller for the kids, and it turned out to be a great library bag for the Teeny Tot!
I also made one for Strawberry Shortcake, and am in the process of making one for Tinker Bell, but she's requested some modifications so I'll have to post that one separately.
I'm a brand new crocheter. Crochetee? Crochet person? Whatever.
The point is I'm new, I don't know what I'm doing, and I still managed to pull this off!
I'd also like to note that I'm horrible at reading actual printed crochet patterns, so I watched the below video tutorial to help me out.
Seriously, have you seen a crochet pattern?
They look like a sports play book or something. No clue how to read them. It's like a foreign language. And I'm still in beginning Spanish. 'Nuff said.
Moving on…
The RedHeart Market Bag video is excellent for the pattern reading challenged! Though like I said, I did make some modifications that I'll list below in the event you want to make a smaller version of this sweetie for your sweetie!
My Material Modifications:
2 Skeins Medium weight (4) yarn
Size 5mm or US-H needle
Bag Modifications:
Complete rounds 1-6 as directed.
Skip rounds 7-8.
Complete rounds 9-14 as directed.
Skip rounds 15-25.
Band and Handles
Round 1: Ch 45, skip 5 star sts, *4 dc around first leg of next star st, dc in eye of same star st; repeat from * 6 more times, ch 45, skip 5 star sts, *4 dc around first leg of next star st, dc in eye of same star st; repeat from * to end of round. Do not join.
Round 2: Ch 1, dc in each st or ch around. Do not join.
Round 3: Slip st in each st around. Join with slip st to first st at beginning of round. Fasten off. Weave in ends
Abbreviations:
sc = single crochet
dc = double crochet
slip st = slip stitch
st = stitch
And here is our finished bag! It's the perfect size for a library book bag for the Teeny Tot, she's 5 now, but I think it would fit up to about an 8 year old. The only modification you would need to make it a little bigger for an older child would be to add stitches to the handle to make it longer. I kind of wing that type of thing, and I chained 45 then held it up to her to make sure the handle size was long enough.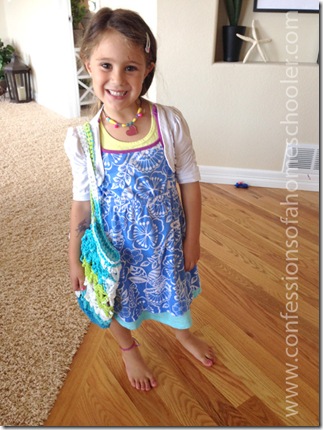 Prefer to read a pattern instead of watch the video? You can download the printable Market Bag Pattern here.
I hope you enjoyed this post. And if you make one of these cute bags for your kids send me a pic, I'd love to see it!