Hi everyone, I have another Homeschooling 101 post for you.  Today we're talking about that dreaded word… SOCIALIZATION!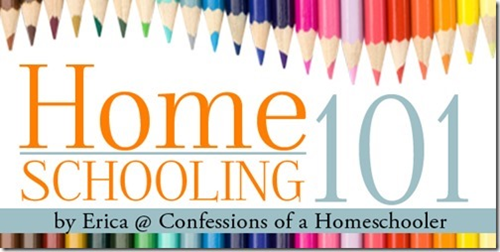 One of the first questions I am asked regarding homeschooling is…
"What about socialization?"
I almost hesitate to even include this topic in my series because of it's sheer silliness. But I know for new homeschoolers, the issue of socialization can be one of their main concerns.
Just so we're all on the same page, let's define socialization.
According to the dictionary, socialization is defined as a process whereby an individual acquires the knowledge, language, social skills, values, and behavior to conform to the norms of a group or community.
Regarding Homeschooling and Socialization
Studies have repeatedly shown that homeschoolers on average outperform their public school peers, not only academically, but socially too. Homeschoolers tend to have more self-confidence as well. They are also shown to score approximately 37 points higher on standardized achievement tests than the public school student average. (Statistics taken from www.hslda.org.)
So clearly homeschooled students have continued to show academic excellence through their scores.
But what about their ability to succeed as adults?
Many fear that by choosing to homeschool their children, they will by default isolate them from the outside world. And in turn, raise children who are not prepared for adulthood.
Due to sheer circumstances, the public school environment tends to lend itself to encouraging students to conform to their peers. Conversely, homeschooling parents focus more on teaching their students responsibility, character, service, compassion, and other essential life skills that will benefit them in their adult life.
Since homeschooling parents are more able to focus on social and emotional characteristics of their children, youth are more likely to model the behavior of their parent. Public schooled students more often emulate the values and conduct of their peers. With more parental involvement in their upbringing, studies have indicated that homeschooled students show less behavioral issues than those in the public school system.
Another advantage we have as homeschoolers is the freedom to tailor our curriculum. We have the opportunity to expose our students to education through field trips, hands-on learning tools, and pursue things that interest them more freely than their publically schooled peers.
We also have the opportunity to participate in a wide variety of community groups, clubs, and sports activities. Things like church youth groups, Awanas, local clubs, art classes, book clubs, science clubs, homeschool co-ops, physical education classes, local community groups, and dozens more, are all excellent ways for homeschoolers to avoid the issue of being socially isolated.
As homeschoolers we are not required to chain our students to desks all day. Instead we can experience the world around us more freely. This flexibility provides the homeschooled student with a well-rounded and balanced educational experience.
Your Part in Socialization
Now, I realize that I can spout off statistics to you all day. But the socialization of your student will ultimately come down to your commitment as a homeschooling parent. While all of these wonderful opportunities are available to most homeschoolers, as a parent you will be responsible for getting your students involved in the various activities and experiences that are available to you.
I have to be honest; at the beginning of our homeschooling journey I too was concerned about the issue of socialization. Since then, I've learned that socialization is a myth at best. It's usually an issue that is brought up by those who aren't fully educated regarding homeschooling, and those who don't support the concept.
Due to my fear of raising un-socialized children, during our first year of homeschooling I enrolled our children in a variety of groups, and extracurricular activities.
My husband and I affectionately refer to this time as "the year we over-socialized".
Since then I've learned that it is okay not to participate in every single activity out there. We've paired down our involvement to include only the things that make sense for our family, and activities that are of true interest to our children.
Over the years, I've come to realize that our kids are doing just fine. They get along well with others, are good at working as a team, and are able to successfully interact well with people of all ages. They are also more self-confident and don't usually worry as much about what other people think.
After 7 years of homeschooling, I still struggle with self-doubt, and I still worry about my children's future. As a parent, I don't think it would be any different regardless of our educational choices.
But God has been good to show me bits and pieces of how we are eternally affecting our children through our decision to homeschool.
While our daily life isn't always blissfully free of behavioral issues, I can see glimpses of the people that they're growing into. I have witnessed positive character traits emerging, and I can rest knowing that they'll be well prepared for adulthood, and eternity.
All that to say that "socialization" is honestly a NON-ISSUE. So let go of your worries homeschooling moms and dads, and just enjoy the time with your children.
Looking for some fun additions to your homeschool journey? Here are some extracurricular options to help get you started.
Keepers at Home: www.keepersofthefaith.com
Contenders of the Faith: www.keepersofthefaith.com
Science Clubs
Book Clubs
Literature Clubs
National Competition groups
Team Sports
High School Sports (Most local high schools offer spots to homeschooled students who qualify.)
PE Classes
Homeschool Co-ops (Search your local area and "homeschool group" for a listing.)
Civic Organizations (Fire Stations, Libraries, hospitals, businesses, etc. usually offer tours for homeschool groups.)
Local Museums
YMCA: www.ymca.net
Dance, music, art, ceramics, and drama classes via your local community education center.
Field Trips
Reading programs
Community theatre
Community volunteers programs
Chess clubs
Computer club
Speech and Debate clubs
For more detailed information regarding homeschooling and socialization visit the HSLDA Socialization webpage.
For more information on homeschooling check out my Homeschooling 101: A guide to getting started!