Hi everyone! October is approaching, which means fall is in the air for those of you above the equator! I love the fall crisp air, leaves change color, and warm comfy clothes!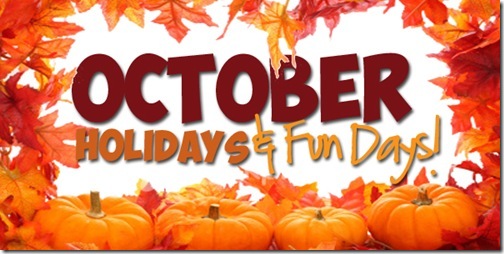 Here are a few dates to remember to make your October a little more exciting!
Holidays:
October 1 International Day for the Elderly
October 3 World Smile Day
October 3 Yom Kippur
October 8 Sukkot
October 13 Columbus Day
October 13 Thanksgiving Day in Canada
October 16 Boss's Day
October 24 United Nations Day
October 25 Make a Difference Day
October 31 Halloween
Fun Days!
October 1 – World Vegetarian Day
Eat your veggies today!
Find a fun recipe and make a vegetarian dinner
October 3 – World Smile Day
Self explanatory, but make sure to share a smile with those around you!
Check out pinterest for some healthy teeth activities
October 4 – National Golf Day
Head out for a game of golf with the family
Have younger kiddos? Play a round of mini-golf!
October 4 – National Frappe Day
Near and dear to my heart, you can rest assured I'll be heading to Starbucks today!
October 5 – World Teacher's Day
Find a teacher you love and let them know!
Check out pinterest for some fun teacher gift ideas
October 8 – American Touch Tag Day
Head outdoors for a fun game of tag!
October 9 – Fire Prevention Day
October 10 – World Egg Day 
You read it, make your favorite egg recipe. I think cookies count right?
October 13 – Columbus Day
Make a miniature of the Nina, Pinta, and Santa Maria, then head to a water source and see if they float!
Make sure to learn the poem: "In Fourteen Hundred Ninety Two Columbus sailed the ocean blue!"
October 14 – National Dessert Day 
Make your favorite dessert tonight and celebrate!
October 16 – Dictionary Day
Take this opportunity to look up a new word today and use it in a sentence at some point!
October 26  – Mother-In-Law Day
Send a gift or card, and call your mother-in-law today to let them know how special they are!
October 27 – National Tell a Story Day
Head to the library and pick a few good read-a-loud and share them with the family after dinner.
Make up your own fictional story and share it with your family.
October 30 – National Candy Corn Day
October 31 – Carve a Pumpkin Day
For more fun fall ideas check out my Fall Recipes pinterest page!
And that's it for our October holidays and fun days! have a fun October celebration in your home? Make sure to leave a comment below.