I'm back today with another Homeschooling 101 post.  Today we're talking about homeschooling kindergarten and elementary level students.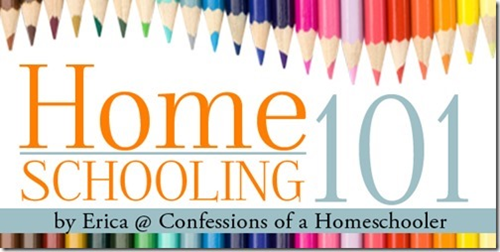 Staying the course in homeschooling can be difficult if you're not fully committed to this calling. There are several things that can cause a parent to doubt their choice to homeschool. In this chapter we'll discuss a few of the things that can discourage families from staying the course when homeschooling.
My intent is to encourage you to persevere through these trials and difficulties that will come. And I highly encourage you to pray for the Lord's leading as you begin each year.
Naysayers
There will always be those who may not support your decision to homeschool, and unfortunately they may also feel the need to express their opinions out loud. The best thing I've found to combat these people is to know why you are homeschooling in the first place. Stick to your vision and ignore everyone else. That said, if someone brings up a valid concern, take the time to address it within your family and make changes if necessary.
"Stick to your vision, and ignore everyone else."
I highly suggest writing out a vision plan for your homeschool. Having it written down is particularly important when you start getting less than positive reactions to your decision to homeschool.  It also comes in handy when you start doubting your own choice!
Click here to download the Homeschooling Vision worksheet
Most likely you have chosen this path because you feel it is best for your family.  Though it is easier said than done, sticking by this decision is vital to your homeschooling longevity. Having it written down is also helpful to reminding you why you've chosen this path. It's easy to start doubting your decision after hearing others' concerns. And if you have a solid standing on your choice to begin with, you are less likely to be swayed by others opinions.
And remember they are just those…opinions. If someone brings up something that is truly a concern for you, do your own research on the issue. Then make an educated decision on how to eliminate that concern from your homeschool.
Discouragement
The other issue that will come up at some point in your homeschooling journey is discouragement. We all get discouraged from time to time; we all have good days and bad days. And we've all seen the flashing lights of that yellow bus and considered for just a quick moment about putting our kids on it.
I want to encourage you…
Hang in there.
You are not alone.
Remember, tomorrow is a new day.
Don't give up.
Don't flag down the yellow bus.
Homeschooling is an eternally rewarding process, and the time and energy you have committed to devoting to your children's future won't return void. You might have days when it seems like nothing is going well, and your patience will be pushed to the limits.
But you'll also witness moments when your children are flourishing. You'll begin to see glimpses of where this journey is leading, and the benefits to your family will become apparent as well. As you witness the bonds created within your family, you'll be thankful that you took the leap. Homeschooling rewards come in baby steps, but you'll know when you see them, and they'll warm your heart and motivate you to persevere.
Click here to see the reasons Why We Homeschool for more information!
For more information on homeschooling Homeschooling 101: A guide to getting started!