Good morning everyone! I hope you are enjoying all of the Christmas gift ideas, tutorials and videos this month! Today I'm sharing a really easy and fun DIY Peppermint Swirl Soap recipe with you. These not only make great gifts, but they are super easy and smell absolutely wonderful!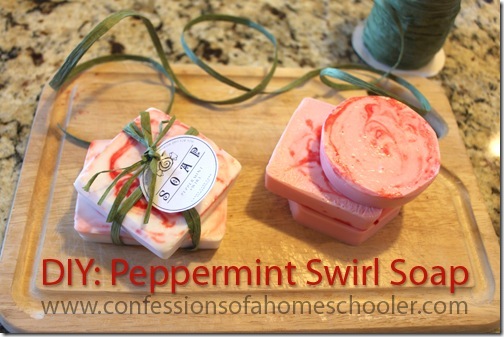 You will need:
1 lb. Shea Butter Soap Base (It comes in a 2lb. block, and I used 1/2 of the block.)
Microwave Safe Measuring Cup w/ Spout
Toothpick or wooden stirring tool to swirl the coloring.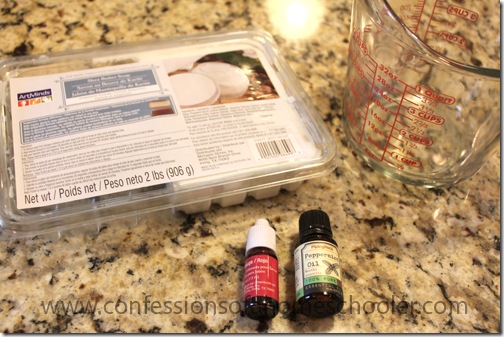 Note: My recipe made about 5 small bars of soap.
Watch the video below to see how to make this simple but festive Peppermint Swirl Soap!

Tip: Pour the melted soap in the mold, then add a few drops of red food coloring. Next finish filling the mold completely with the soap and swirl the mixture with a popsicle stick or tooth pick to spread out the color within the bar of soap.
Here's what they look like when they're done! We also died a 2nd batch a light pink, then added red swirls. I think they turned out great!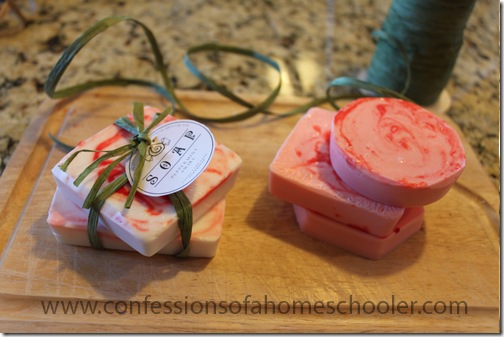 Gift it!
Next decorate your bar of soap by tying a festive holiday ribbon around it and adding a cute little tag to the front. You can download my Peppermint Swirl Soap Tags here.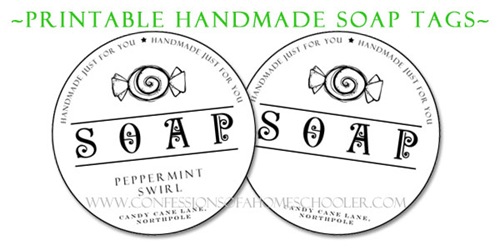 Click the image above to download the Peppermint Swirl soap labels.
And that's it! Easy peasy! ;o)
I hope you enjoy this tutorial, and stay tuned for more Christmas fun coming your way!
PS. If you choose to make these, send me some pics on instagram with #coahchristmas so I can see!