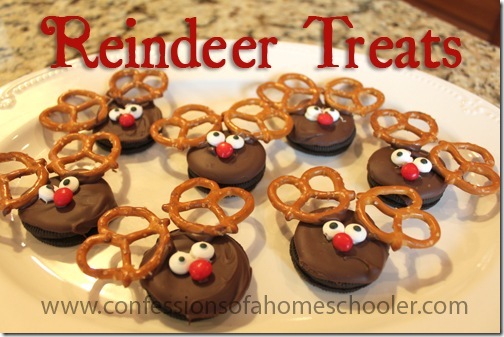 Good morning readers! I have another super cute holiday treat for you today. These adorable reindeer snacks are not only easy to make, but they make great treats to bring to any holiday festivities you might have going on! And they're really easy enough that your kiddos can do them too.
Let's get started!
If the video doesn't work for you , click here to watch the Reindeer Treat tutorial!
Ingredients:
Oreo cookies
Pretzels
Red Hot candies or red m&ms
Candy eyes (can substitute white chocolate chips and black frosting)
1 cup chocolate chips
Optional: White frosting (I used them to attach the eyes, but you can use chocolate too.)
Directions:
Set your Oreos out on a festive plate.
Melt 1 c. chocolate chips in the microwave on 20 second intervals stirring in between until melted.
Drizzle chocolate over the top of your Oreos and let harden in refrigerator for about 10 minutes.
Once chocolate is hardened, melt another 1/2 cup or so of chocolate chips and use that to attach the pretzel horns, candy eyes, and nose.
Refrigerate until chocolate is firm.
I hope you enjoy this festive snack idea, and let me know if you give it a try!