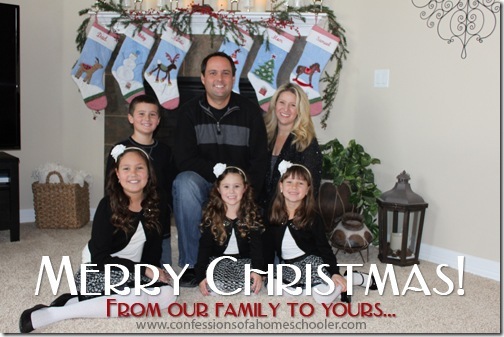 Hello amazing readers! I'm so excited for the holidays, and even though we're taking some time as a family to celebrate the birth of our Savior, I wanted to put up a fun post today to wish you all a wonderful Christmas and an amazing new year! I pray that you have a blessed time with friends and family this season and that you keep Jesus the center of all festivities!
We've actually been sick last week, but thankfully everyone is well now and Christmas is ON! We'll be heading up to my parents home tonight to celebrate with my family. Then tomorrow we'll go over to celebrate with Jason's family. We look forward to seeing everyone and spending time together, enjoying amazing food, fun presents, and great fellowship as we celebrate the birth of our Savior!
I thought it would be fun to leave you all with a festive video so you can see what it's like around our house this time of year. And stick around until the end for a special message from us!
If the video doesn't play in your browser, click this link to watch our 2014 Christmas Video!
We're so thankful for all of your support and encouragement this year.
You are all the best readers EVER and make blogging a pleasure!
Blessings from our family to yours,
We wish you all a very Merry Christmas and a wonderful 2015!
Erica, Jason, Strawberry Shortcake, Turbo, Tinker Bell and the Teeny Tot!
P.S. I'd love to hear what you are all up to for Christmas this year, leave a comment below!