Good morning fellow educators!
I know it's getting to be that time of year again. The one where you're not quite finished with the current school year, but are starting to research, gather curriculum, and plan for next year.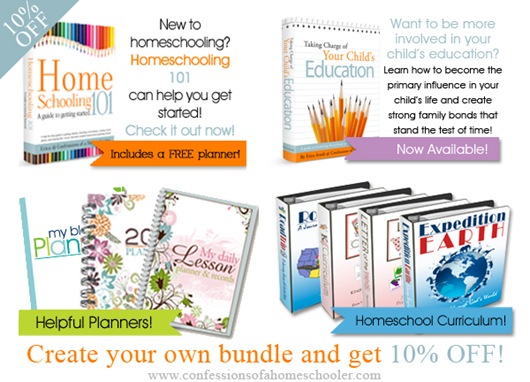 Today I have a special treat for you all, and it's something that's been long requested. I get several emails asking if people can create their own combination of products and receive a discount. Previously I had listed some pre-combined combo packs to help out, but we wanted you to be able to make your own combination of products. So my brilliant husband has come to the rescue again and done just that!
My store now has the capability to let you buy whatever combination of products you want and receive a discount! That means you can combine your favorite literature units, scientist studies, etc. and still get a discount. Now you can create your own bundle based on the needs of your family! Yipee!
How does it work?
It's simple. Just buy 2 or more qualified items and receive 10% off your entire order! 
NOTE: Discount will be calculated after you go to checkout and will not be displayed in cart.
NOTE: Mega packs (already discounted), classroom editions, digital scrapbook supplies, and free products are excluded.
Ready to get started? Visit my Confessions of a Homeschooler store to create your own bundle now!
I hope this helps some of you out, and I'll be putting out my curriculum choices for the year soon, so stay tuned to see what we're doing next year!