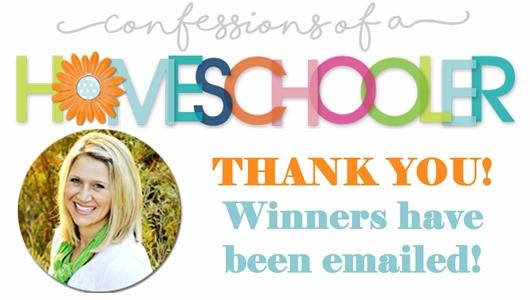 Hi everyone! I wanted to thank you all for such a great sale and week full of giveaways! I had a lot of fun chatting with you all on my new store chat, and hopefully everyone was able to get some great deals.
We've decided to leave the chat feature open for now, so when I'm logged in you can find me at the bottom right corner of your screen. And yes, you are actually talking to me! Sometimes my mom or husband will help out as well, but for the most part I'll be making myself available to help answer your questions as often as I can.

GIVEAWAY WINNERS!
I've picked all of the winners for the giveaway. They've all been emailed and you can also check the rafflecopter widgets at the bottoms of the posts to see who won as well. Please reply via email within 48 hours or a new winner will be chosen.
If you missed this sale I'm so sorry, the sale ended last night at midnight MDT. But we still have our normal buy two qualifying products and get a discount on items in our  Confessions of a Homeschooler store. So make sure to look for those deals!
I'll also be sending out special promotions for our Newsletter Subscribers only, so make sure you're subscribed to those as well.
You can subscribe on my sidebar –>>
Thank you so much for your support and kindness during our sale, hopefully you enjoyed it, got some great products and will have a fun time learning.
Happy Homeschooling!