Hi everyone! It's Back-to-School time for us here at the Confessions household which means we're entering into our busy season.  Once school starts I barely  have time to pee let alone time to think about what to make three times a day for the rest of school season! That means I need a plan folks!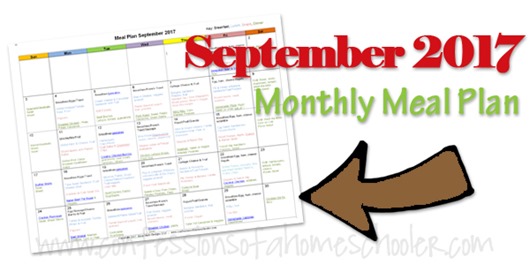 And don't worry, you can use my 2017 September monthly meal plan to save your sanity too! Seriously, having a meal plan reduces my stress level and keeps us fed with relatively healthy meals rather than fast-food and drive-thrus!
–>> Download the September 2017 Monthly Meal Plan below!
–>> Tips on using my monthly meal plan:
If you haven't already used this before, you can click on any of the underlined menu items to get to the recipe.
I like to shop once a week, so I just make a list off of my menu plan and head to the store. I find that I spend less when I shop off of a list, then flying by the seat of my pants. I also end up with ingredients that will actually go together instead of a bunch of random items that don't amount to anything.
For more fun recipes, visit my Recipes Page!
–>> Busy Mom's Guide to Home-cooked Meals
Do you wish there was something that included monthly meal plans, recipes, grocery shopping lists, as well as a customizable meal plan to fit your families needs? Look no further! Check out my Busy Mom's Guide to Home-cooked Meals!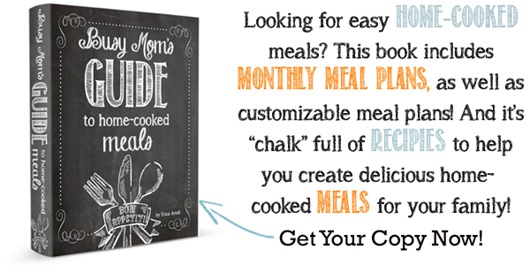 Details: This book is available as an 8.5×11 PDF download that you can print and have spiral bound. As well as a Paperback full color hard copy on Amazon. This book has 99 pages. I suggest printing in color, then spiral binding it at a local office supply store.
–>> Click here to get your copy today!
Looking for some yummy smoothie recipes? Click on the image below!