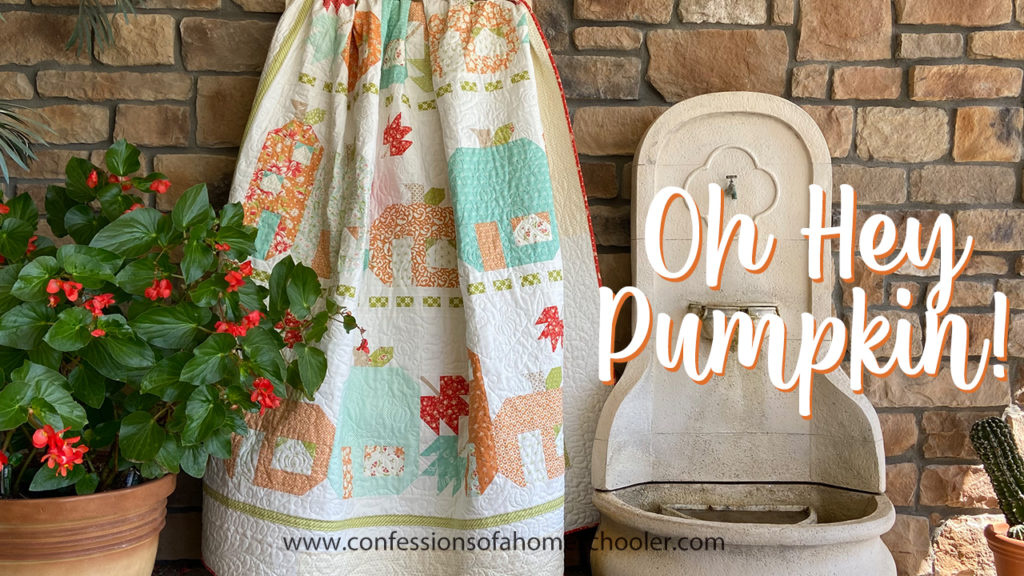 I'm so excited to introduce Oh Hey Pumpkin! It's my NEW fall quilt release! This pattern goes along with my Christmasville pattern, which was so cute I couldn't resist making a fall version. I'm sure a summer and spring version are in our future too!
Oh Hey Pumpkin finishes at 80″ x 80″ and features Fresh Figs by FigTree for Moda fabrics. I used a few other prints from my FigTree stash and some fun low-volume prints for my outer border. I used an aqua from Fresh Figs for the backing, then a cute red print from the same line for the binding.
And don't forget to add your label! Mine was a personalized label from my Sweetwater Tagged subscription! I will have a video tutorial on how to add labels to your quilts coming soon!
Watch my Oh Hey Pumpkin video to see this fun quilt in action!
Supplies Used:
I used my "new-to-me" longarm to do the quilting for this quilt. I decided to get adventurous and try brand-new patterns for the entire quilt! I did my first ever continuous feather around the outside border, then some loops on the inside border. I also did free-hand pumpkins, leaves, and swirls on the center of the quilt. I
And yes, I freehanded the entire thing. I don't have that fancy laser light or any pantographs yet, so I just did it free-hand. It's not perfect, but I don't mind at all! It was definitely a challenge, but I had a lot of fun, and learned a few tricks along the way!