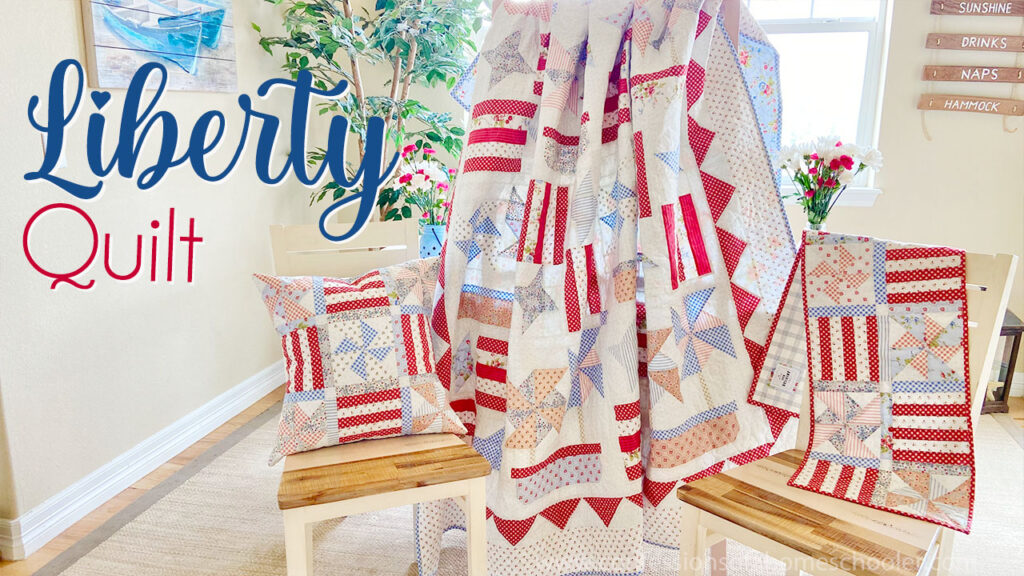 Get ready for the fireworks with my new Liberty Quilt Pattern! This quilt has a vintage vibe with patriotic pinwheels and flags! It also features a beautiful border that's sure to wow! The quilt finishes at 86″ x 86″ but you can easily adjust the size by changing the borders, and removing a row of blocks.
The pattern also includes TWO BONUS patterns, an adorable pinwheel pillow, and a patriotic table runner made with the leftovers from the quilt! They're super easy to put together and easy to adjust to fit your table size as well!
Get the LIBERTY QUILT PATTERN here!
Finished Size:
The quilt finishes at 86" x 86"
FABRIC REQUIREMENTS:
Background: 4 yards
Flying Geese Border: 3/4 yard red
Low Vol Border: 1-1/4 yard low vol.
Backing/Batting: 8 yards
Binding: 5/8 yard
Sweet Liberty FQ Bundle (20 FQs) OR

3/4 yard pink
1/2 yard low vol
3/8 yard light red
3/8 yard dark red
1-yard light blue or aqua
1-1/4 yard dark blue
1/8 yard grey

Bonus Pillow (20″ x 20″) + Runner (15″ x 49″)Fabric:

1/3 yard red
1/3 yard low vol
1/2 yard backing (pillow)
20″ x 20″ pillow insert
20-1/2″ x 20-1/2″ batting (pillow)
1/3 yard binding (runner)
14″ x 50″ batting/backing (runner)
1 yard backing (15″ x 51″ runner)
Fabric Used in Sample:
Background: FigTree Fruit Cocktail Blueberry Eyelet SKU# 20457-41
Backing: Sweet Liberty Sky SKU# 18750-12
Sweet Liberty FQ Bundle (20 FQs)
Low Volume Border: Sweet Liberty White & Rose Accent Floral Yardage SKU# 18753-21
Red Flying Geese Border: Red Gingham SKU# 18754-17
Binding: Sweet Liberty Blue Gingham SKU# 18754-22
Personalized Label: Sweetwater Fabric Co. Tagged Subscription