Get ready for an exciting voyage across the world! Come along as we walk on the Great Wall of China, wander through the Amazon Rainforest, and climb the Egyptian Pyramids! Within this curriculum you'll discover the sights and sounds of 31 countries across the globe. You'll get hands-on with fun activities, crafts, recipes and more! So grab your passports, and get ready to go! It's time for Expedition Earth!
Expedition Earth: A Journey Through God's World: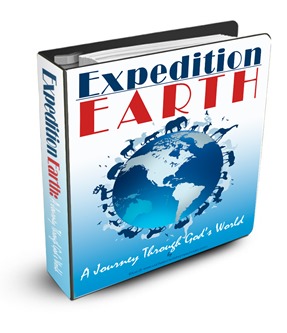 Get the Expedition Earth Geography Curriculum here!
So what is Expedition Earth: A Journey Through God's World?
Expedition Earth is a hands-on world geography curriculum that covers 31 countries across the world. It is designed primarily for Kindergarten-5th grade. Students will learn about the continents, oceans, people, cultures, animals, climates, try new foods, crafts, and more, all through hands-on activities! I used it with my preschooler, 1st grader, and 2nd grader altogether. (My preschooler didn't do any reports, but she did learn the country names, songs, languages, pray and do all the fun crafts and recipe activities!)
The revised version includes Lap Books for each country, new information, internet links, and books. Here's a peek at the Teacher's Manual. It includes everything you need for each lesson including any additional info, internet links, reading assignments, crafts, and recipes for each country as needed. There are 32 weeks of lesson plans, plus a Christmas Around the World Unit. The Teacher's Manual is outlined for you on a daily basis and even includes a Craft Supply Shopping List for each country just to make your life a little easier!
Click here to download a sample of our Brazil Week
What's included?
7 Wonders of the World

World Lap Book

Geographical Locations

Mapping Skills

Science: Ecosystems Study

Geography Vocabulary

People of the Region

How to Pray for the Regions

Christmas around the world

Children like me

Science: Animals mini-books for each country

Science: Animal Classification Study

Food and recipes

Craft activities

Country Songs

Review Games

Reports & Quizzes
Here's a peek at the Student Workbook: It contains everything you need for each student in one easy printable section. The student workbook includes mapping and flag pages for each country along with mini-books that you'll use to complete a World Lap Book.
Language study: Each country comes with a fun flashcard to help you learn how to say "hello" in the main language of the country!
Additional activities for older students:Depending on the age of your student you may want some additional challenge. I have created 5 reports that your student can complete depending on interest or skill level.
Country Report

Continent Report

Animal Report

Ecosystem Report

Children Like Me Report

Country Quizzes
Printable Passport: No world wide expedition would be complete without a fun souvenir for the students! Expedition Earth comes with a fun printable passport that you can use to stamp for each country visited. I have also included printable flags that can be added to your passport as you travel through.
And as an added bonus, all students participating in Expedition Earth will receive a a commemorative Certificate of Completion once they've completed their journey!
Additional Reading: I suggest visiting your local library or doing an internet search for countries that interest your child. They can use these books during their free reading time for a more in depth study! There is an additional reading resource section in the Appendix.
As if that weren't enough, I also have a FREE animal unit study called Expedition Earth: Discovering God's Animals. It's a wonderful supplement for Expedition Earth, and includes animals found in each country, a mini-book, and animal cards. It also includes animal classification labels for an animal wall. Here's a peek:
Click here to download the Discovering God's Animals Supplement!
And as an added bonus, Maureen Spell from Spell Out Loud made a great Continent Hop Scotch Game to go along with it!
Hope you enjoy learning all about God's World!