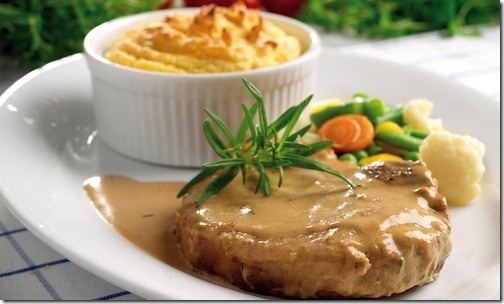 (Image source: getcrocked.com)
Hi everyone! Today I have a super yummy crockpot pork chop recipe for you! This one seriously doesn't get any easier, and it was definitely a crowd pleaser for everyone at the Confessions household. And that is quite impressive since there is usually one person who isn't thrilled with dinner.
So let's get on to dinner shall we?
Ingredients:
4-6 bone in pork chops depending on your family size.
1 small can cream of mushroom soup (Can use cream of chicken as well)
1 can filled with water or milk depending on how creamy you like your gravy.
Method:
Combine the soup with the milk or water in a bowl.
Pour a bit of the soup into the bottom of your crockpot, then add a layer of pork chops (frozen or thawed is fine. Mine are usually frozen because I don't plan ahead very well!)
Pour more soup over that first layer, then add another layer of pork chops, another layer of soup, and another layer of pork chops. Finish your layers with a final layer of soup.
Cover and cook on low for 4-6 hours.
Serving instructions:
The pork chops will be VERY moist and tender, and will fall right off the bone! Place some in a plate then top with a little of the gravy mixture left in the crock pot. I like to serve this with mashed potatoes and your favorite veggie.
Alternative flavoring:
For a little more flavoring you can add in one dry  mix packet of Ranch Dressing to the soup mixture! Yum!
So that's it, my super easy, yummy, and comfort food recipe for any night of the week. I hope you enjoy it, leave a comment below if you try the recipe!
Have a favorite crockpot recipe to share? Make sure to leave a comment below!