recently
Honey Chicken and Rice Crockpot Recipe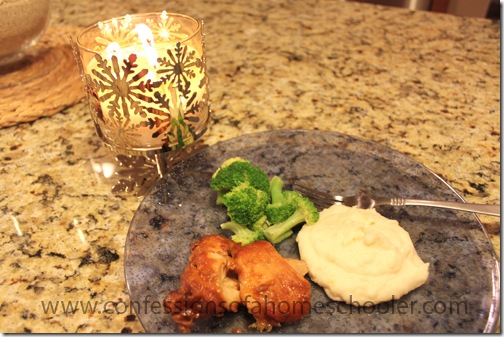 Good morning readers!
Today I have a super easy and yummy recipe to share with you all.
This is a favorite in our house as it's tasty, but really it takes all of 5 minutes to prepare. And for a homeschooling mama, that puts it on the top 10 list of meals!
Ingredients:
4 boneless, skinless chicken breasts
1 small onion, diced
1 cup honey
1/2 cup soy sauce
1/4 cup ketchup
3 cloves garlic, minced
2 tablespoons olive oil
1/2 teaspoon red pepper flakes
salt and pepper to taste
Directions:
1. Turn crockpot on low.
2. Place chicken breasts at the bottom of the crockpot.
3. Mix remaining ingredients together and pour over chicken. Put lid on crockpot and cook for 3-4 hours for thawed chicken breasts, or 6-8 hours for frozen chicken breasts.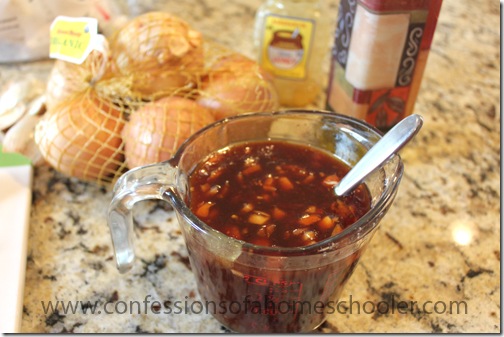 4. Curl up in your favorite easy chair and have a few bon-bons.  I mean…go homeschool the kiddos knowing that dinner's already cookin'!
(Sorry, apparently my camera chose to put the crockpot in focus instead of the chicken. Must pay better attention next time!)
Once dinner time rolls around, serve over a bed of rice or with mashed potatoes and veggies. I also like to add in a salad just to get those veggies in!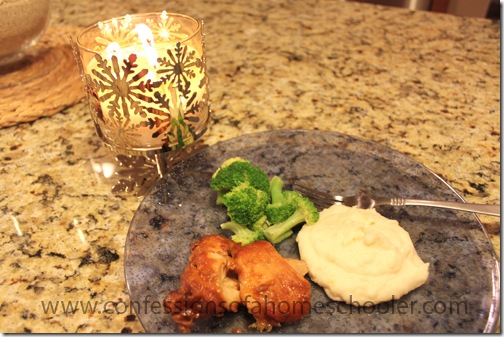 Okay, in our photo we obviously had broccoli, but in hindsight a salad sounds better ;o)