Welcome to our Expedition Earth week on The Arctic Circle! This is our final week of Expedition Earth and we've had a total blast! I think I've learned as much as the kids did and the activities were super fun. Hopefully we created some great memories that will last for the long haul!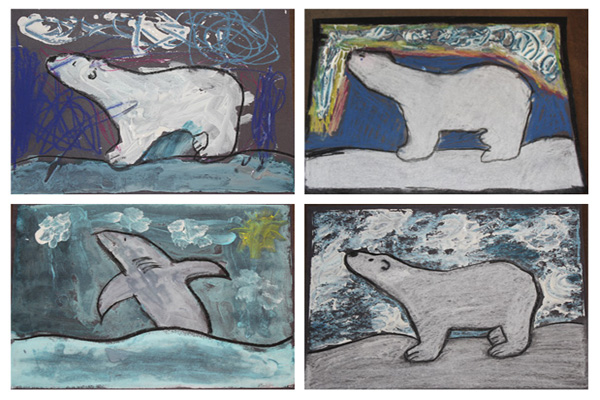 Here are some of the things we learned this week:
Wow, I can't believe its our last week of Expedition Earth! This has by far been one of our favorite parts of the day and we're all sad to see it over. Sigh.
We stamped our passports for the last time.
Completed our last mapping worksheet.
Learned about our last animals. Excuse me a minute while I weep.
And added them to our VERY FULL animal classification wall.
We watched Owl Babies on You Tube:
Then we made a fun snowy owl craft. Instructions are in the Expedition Earth curriculum, but it was pretty easy, just need a few paper plates, some glue and some fake snow ;o)
And then…then we did one final craft…arctic soap whittling. This was super fun. And our last craft. The very last one we'll do this year.
Pardon me a minute. Sigh. Sniff.
And then…because I was sad to see it end…we did one more last, final, ending art project. Instructions to follow because this one was fun! I'll give you a hint…we mixed pastels with paint. Ooh…have I peeked your interest?
I found this idea on Deep Space Sparkle, and i have to say the kids loved it! I'll post instructions tomorrow so you can see it in detail.

And that my friends…wraps up our journey across the world! I hope your family has as much fun as we did learning about our great earth! We've gleaned so much from each wonderful country and I'm so thankful for all of your support as we've traveled through!
Bon Voyage for now…up next? Road Trip USA baby!
Click here to learn more about my Expedition Earth World Geography curriculum!.
Visit my "Geography" tab to see all of our world explorations!