I know most of you have already met The Teeny Tot, but for those of you who haven't, she's a 2.5 year old relatively active toddler. Since we homeschool, I need something to keep her occupied while we're working.
If I don't have activities for her, then she's more than happy to find things to keep herself occupied…for example last year, she painted my carpet with fingernail polish.
I've really found that the best way to keep your toddler's busy isn't to put them off to the side, or try to keep them out of your school stuff, but instead to just include them in the work.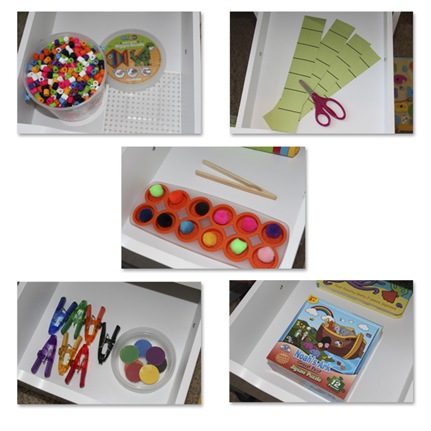 With that concept in mind, I set up The Teeny Tot with her own workbox drawers and desk space. (Click here if you don't know what workboxes are.) She has her own pencils, markers, and crayons just like the big kids. And in her drawers are fun activities for her to pick from while we're doing school.
She sits right at the table with us and does her work. When I tell my big kids to pull out their workbooks, so does The Teeny Tot. Although she doesn't actually know what she's doing, she'll sit and color a workbook page for quite awhile…for those of you wondering, this wasn't the case last year…at all! So if you're in the midst of toddler chaos during school, just know that it will get better ;o)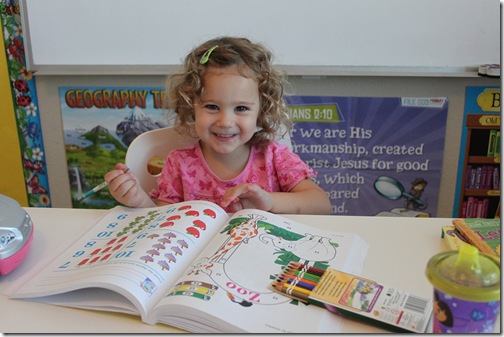 I usually try to give her some sort of transferring activity to do. If the other kids are working while she does this activity I'll count with her as she grabs each item. This one is just some toaster tongs and a cute lemon slice ice cube tray (both from Bed, Bath & Beyond) and some colorful pom-poms. You can also direct them to "Get the pink one next, now do the blue one, how about the purple one next…" etc.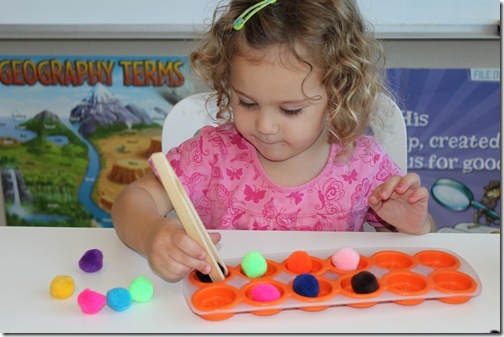 When she's done I'll usually have her take the pom-poms off the tray and put them back in to a little cup. Once that's complete she'll put her activity back in her workbox.
These weren't in her drawer, but she loves to play and build with our Linking Cubes from Lakeshore Learning. They're great for making patterns, counting, and building!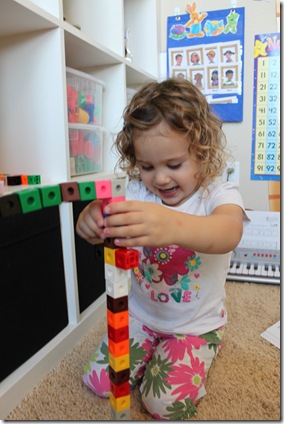 I also try to add something to work on her logical thinking skills. This is a large piece puzzle from Alphabet Alley. I absolutely LOVE LOVE LOVE their products! They're nice and sturdy which makes it easier for little guys to manipulate and these puzzles are the perfect size for The Teeny Tot.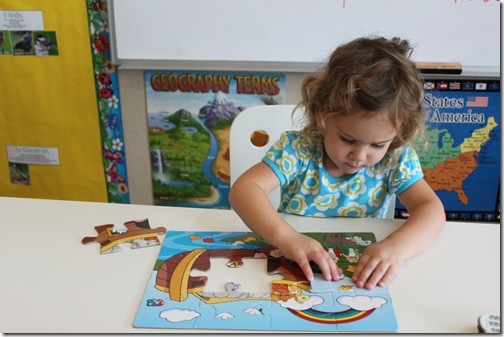 I also try to add in something to work on her dexterity and fine-motor skills. These are Biggie Beads by Fun Fusion. They're just like the smaller version, and the bucket comes with a bazillion beads and a plastic pegboard. You can use them to make designs, patterns, pictures and just about anything you like. This time she decided to do one row of each color.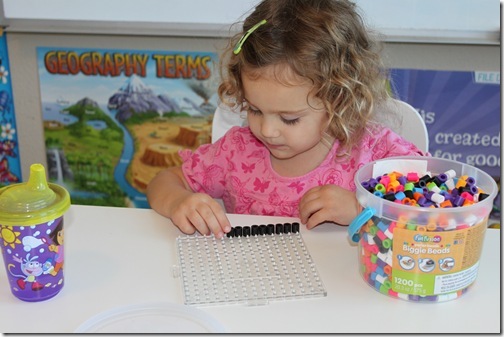 Finally I did a fun color matching activity. I found these oversized colorful clips at Bed, Bath & Beyond. Then I just took some 1 1/2" wooden disks and glued on a colored picture on one side and a solid color circle on the other side. Her goal was to match them all up. Once she was done I asked her to show me specific colors like "Show me the purple one, now show me the blue one…"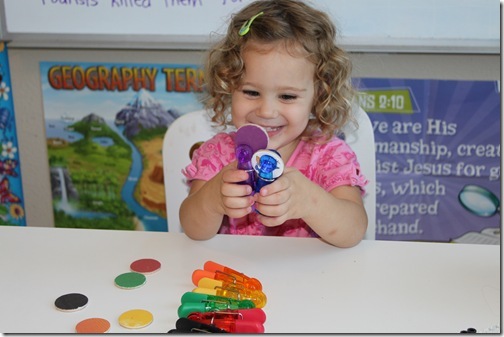 I usually have about 4-5 activities for her to do per day, and no I don't always put new stuff in her boxes, I try to grab random fun things so she has new activities each day…but you know how it is. And I've found that as long as I have a couple new things, she'll repeat activities from the day before without too much complaining.
So that's it, I don't do anything super structured with The Teeny Tot right now. I just give her a variety of activities depending on what I have close by. Next year she'll start on our Letter of the Week Curriculum, but for now just having her own activities seems to be working.
If you're curious as to what the Teeny Tot was up to in previous years, click here to see A Day in the Life of The Teeny Tot.