Hi and welcome to our Road Trip USA week on Michigan! I hope you are enjoying your journey thus far, we are having a great time learning all about the United States of America!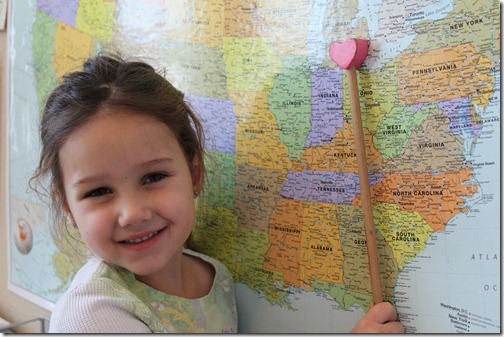 Michigan was named the 26th state on January 26, 1837. It was nicknamed "The Great Lake State" because the Michigan shores meet four of the five Great Lakes and in reference to the number of inland lakes in the state. It has the longest freshwater shoreline in the world. There are 11,000 inland lakes and more than 36,000 miles of streams in the state.
Here are some of the things we learned about this week:
Located Michigan on our wall map
Read our National Geographic Atlas and located Lansing, MI using the map coordinates.
Worked on our 50 States and Capitals song
Learned about the state and it's flag
State Bird: The Robin
State Flower: The Apple Blossom
Learned about the Great Lakes: Lake Superior, Lake Michigan, Lake Huron, Lake Ontario, and Lake Erie.
State Reptile: The Painted Turtle
Famous Landmarks: Motown Records Historical Museum is located in Detroit Michigan.
Famous People: Thomas Edison, a famous inventor, was born in 1847 in Milan, Ohio.
Other famous Michigan's: Henry Ford and Charles Lindberg
Food: Cherries. Each year Michigan holds an annual Cherry Festival!
Classified the animals of Michigan
So here is my white board for the week, we use this to review all of the state facts and symbols each day.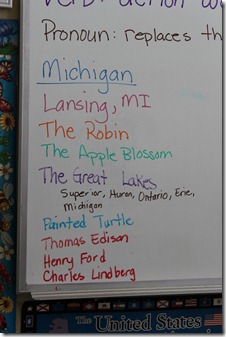 Since Michigan is at the heart of the Great Lakes, we learned about Lake Superior, Lake Michigan, Lake Huron, Lake Ontario, and Lake Erie.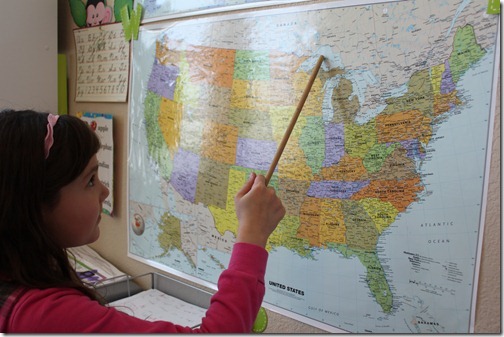 We took turns locating Lansing, Michigan in our National Geographic Atlas.
The Teeny Tot was kind enough to add Michigan to our United States Bulletin. After that we reviewed all of the states we've learned so far on our travels.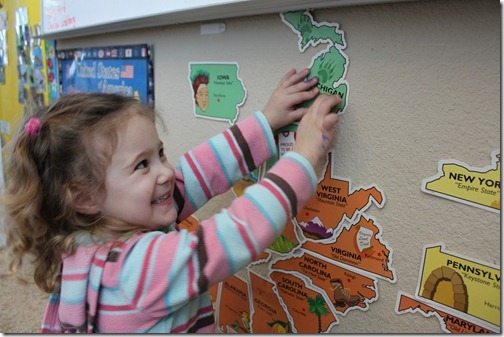 Then Turbo had the honors of adding the state to our wall map.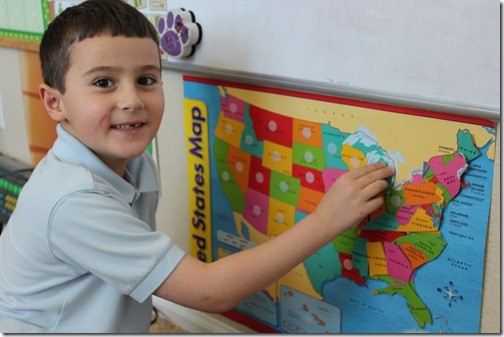 After learning about the animals symbols for Michigan, we classified and added the animals to our USA animal wall!
Of course the kids had a chance to color in their state worksheets as we read through all of our information for Michigan.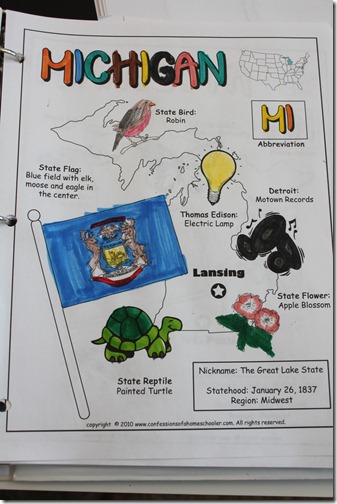 Thomas Edison, a famous inventor, was born in 1847 in Milan, Ohio. In 1854, his family moved to Port Huron, MI. At age seven, his mother with-drew Thomas from school and began to Homeschool him. Thomas was a serious minded student who was very interested in the workings of anything and everything. By age 12 he had read many impressive works along with the World Dictionary of Science and several works on Practical Chemistry! Thomas had poor hearing, but he didn't let that stop his quest for knowledge, and eventually he went on to work with electricity. In 1879 he invented the first commercially practical incandescent electric lamp. The first light maintained its incandescence for over 40 hours!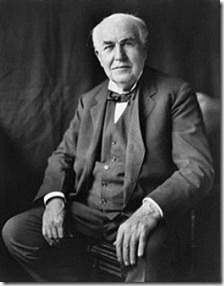 Motown Records Historical Museum is located in Detroit Michigan. The Motown record label was originally founded on April 14, 1960 by Berry Gordy, Jr., a local Detroit songwriter. Motown played an important role in the racial integration of popular music and was the first record label owned by an African American. Motown has owned or distributed releases from more than 45 subsidiaries although it is most famous for its release of rhythm and blues, soul, hip-hop, and pop genres of music. In 1988, MCA and Boston Ventures took full ownership of Motown and the company is now owned by MCA Records.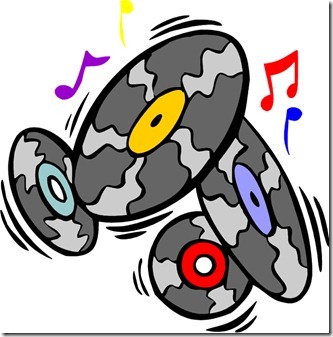 Since we learned all about the great inventor Thomas Edison, we decided to make some inventions of our own. I directed the kids to come up with something that would make their lives easier.
Turbo and Strawberry Shortcake came up with a play car for the Teeny Tot. It came complete with a seat, door, steering wheel, dashboard, foot petal, front and rear lights, and arm rests. All in all, I was quite impressed with the detail! And you probably can't tell from the photo, but it really is big enough for her to sit in!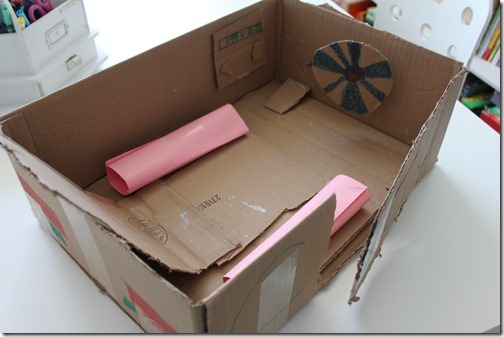 The next invention Strawberry Shortcake made was a back scratcher. I was working a little on emails when I noticed someone measuring my back side. Naturally I was curious, but I got not solid answers, just that she was working on something.  After a few more measurements, she disappeared, then returned with this. It's a backscratcher made from twigs, sticks, and packing tape. The same tape I use to send out Cd's too all of you! I was quite impressed when I realized that it actually worked pretty well!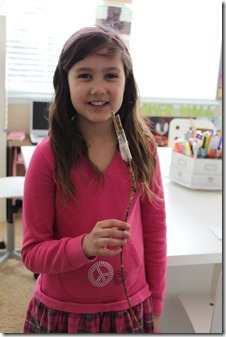 And that ended our journey in Michigan, we sealed the deal by adding the Michigan state flag to our Travel Journal.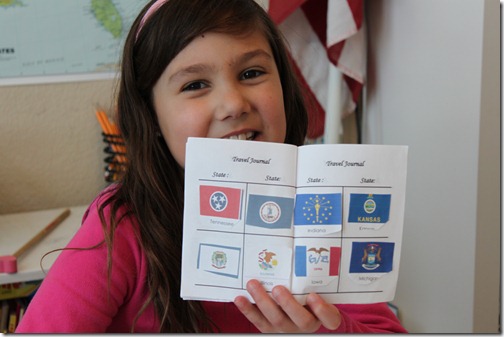 And that wraps up our Michigan study! If you'd like to come along with us on our Road Trip USA journey, click the image below to learn more!