Good morning everyone! Easter weekend is already upon us, and I have some really fun and easy Easter crafts that you can do at home to celebrate!
Easter is the celebration of the resurrection of Jesus Christ (in the Christian religion) and His promise of eternal life.  It is celebrated on the first Sunday after the full moon on the Spring Equinox, usually sometime between March 22nd and April 25th.
Many people begin celebrations with Lent which starts on Ash Wednesday and runs for approximately six weeks before Easter Sunday. Many people celebrate Lent by giving up something of value to them for this time period. Popular items to abstain from are various foods, drinks, sugar, TV, etc. Traditionally one was to abstain from eating animal products including eggs during Lent.
Holy Week starts off with Palm Sunday, commemorating the arrival of Jesus of Nazareth into Jerusalem. It is followed by Holy Thursday, commemorating the Last Supper, and Good Friday, the day of Jesus' crucifixion. The holiday then ends on Easter Sunday, the day Jesus rose.
But what about the bunny and eggs? How do they fit in? Eggs have long been a symbol of fertility, and since springtime is the time we celebrate new life and rebirth, eggs became a popular theme for the holiday.
In German folklore, the Easter Bunny became a hare (not a rabbit) that laid eggs. Obviously this isn't a true tale (no pun intended).  The children would create a nest from sticks and leaves so that the Easter Bunny might leave them eggs. Similar to Father Christmas, the Easter bunny would then leave colorful eggs for good girls and boys on Easter morning. Since the churches customarily abstained from eating eggs during this time, they were boiled or roasted to keep them from spoiling.  Later German's retained the custom of coloring the eggs, then eating them on Easter to break the fast.
Today, Easter is the 2nd larges candy consuming holiday, and everyday 5 million marshmallow chicks and bunnies are made to prepare for Easter! The first edible Easter Bunnies, made of pastry and sugar, were made in Germany in the early 1800s. Peeps are the most popular candy, second only to the chocolate bunny.
Sooo…now that we have a little history lesson, let's take a look at some of the fun crafts and activities that we've done over the years to celebrate!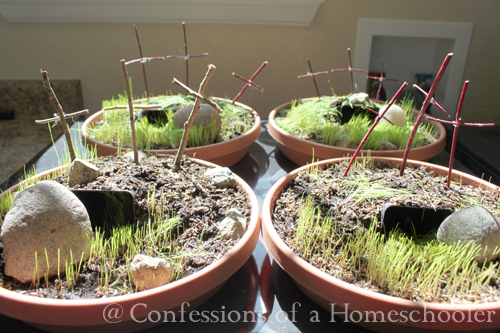 If you missed yesterday's post, creating a mini resurrection Easter Garden is a wonderful idea to remind your family of Jesus this season! Click here for detailed instructions on creating your own mini resurrection Easter garden.
"Life of Jesus" Bracelet
This is a great Easter craft for kids as well as a wonderful gift!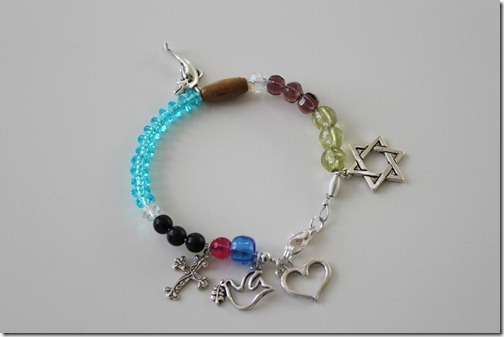 Here is the story:
One night there was a bright start, which guided three wise men. They carried three gifts to give to the King of the earth upon His birth. He grew up to become a carpenter, and a fisher of men and souls. He had twelve apostles, who spread the Word of Christ. Because of our sins He was crucified, shedding HIs blood for us. he ascended to Heaven, and is seated to the right side of the Father. he sent the Holy Spirit to show us the way. And He did all this because of His great love for us.
Supplies: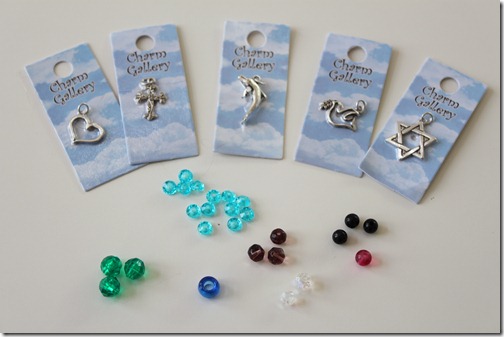 One night there was a bright star (Star Charm),
Which guided three wise men (3 green beads),
They carried three gifts to give the King of the earth (3 white beads),
upon His birth (1 clear bead),
He grew up to become a carpenter (1 brown wood bead),
And a fisher of men and souls (1 fish charm),
He had twelve apostles (12 colorful beads, I used blue),
Who spread the Word of Christ (1 clear bead).
Because of our sins (3 black beads)
He was crucified (1 silver cross)
Shedding His blood for us (1 red bead)
He rose and is now in Heaven, seated to the right side of the Father (1 blue bead)
He sent His Holy Spirit (1 dove charm)
And He did all this because of His great love for us (1 heart bead).
I also made a little story card that you can print and tie to your bracelet to give as a gift this Easter.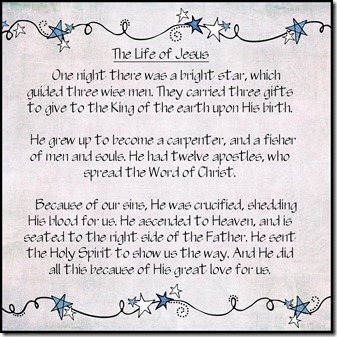 –>Click to download the "Life of Jesus" card <–
You can hunt for the beads on your own, or you can also purchase a Story of Jesus Bracelet kit from Oriental Trading for $9.99
Resurrection Eggs: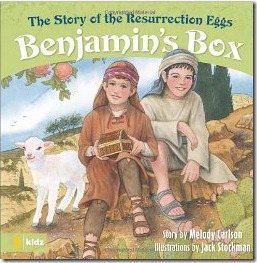 We like to read through Bejamin's Box: The Story of the Resurrection Eggs. As we get to each egg, the kids take turns shaking it and guessing what they will find inside. Finally I choose one to do the honors. They're always excited to do this even though they pretty much know what's going to be found inside.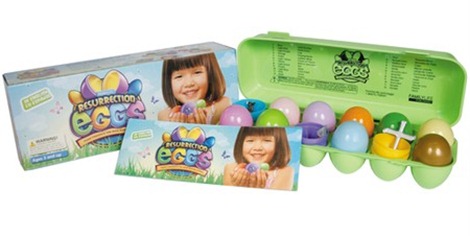 (Above image is a kit you can purchase from ChristianBook.com)
Here is a list of supplies to make your own:
Scripture Strips <–Click here to download the printable strips
1 egg carton & 12 plastic Easter eggs filled as directed below:
Bread or cracker piece – Matthew 26:26
3 coins – Matthew 26:14-15
Purple cloth strip – Mark 15:17
Thorny crown and red strip of fabric – Matthew 27:29
Thick string – Mark 15:15
Cross – John 19:17-18a
A nail – John 20:25b
A sign saying "This is the King of the Jews" – Luke 23:38
Sponge – John 19:34
Spear – John 19:34 (ideas: Plastic cherry sword, or make one using brown and grey construction paper, or color and cut out one)
Rock – Matthew 27:59-60
Empty – Matthew 28:6
The Jelly Bean Story
This is another great gift for Easter time! Plus sweet little jelly bean gifts are great to hand out at your co-op, or to family members as a fun gift that reminds everyone all about Jesus!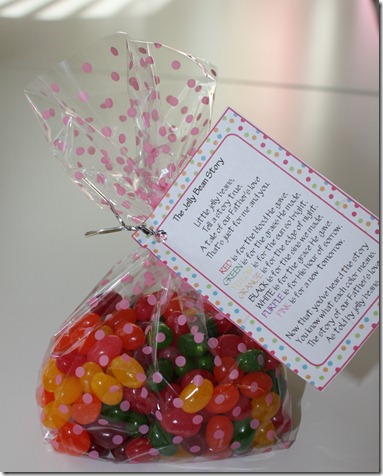 Supplies:
1 clear gift bag or jar
1 bag of jelly beans
Printable Jelly Bean Story
Ribbon to tie story to jar or baggie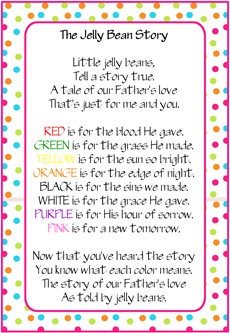 –> Click here to download the Jelly Bean Story <–
Directions:
Fill glass jar or gift bag with jelly beans
Tie closed using a pretty ribbon
Add on the Jelly Bean Story printable
Hand out to friends and family!
Mama Jenn also has a cute variation of this activity on her blog as well! The story is a little bit different, so feel free to hop on over and share some love with her for creating such cute printables!
Here are some more fun Easter activities I've shared in the past!
Easter Egg Dyed yarn Tutorial: This is a great project for kids, and it was easy enough that they did most of it on their own, with just a little instruction from me such as measuring and help with the microwave.
I made some fun Easter activity printables as well for our family, you can download them here!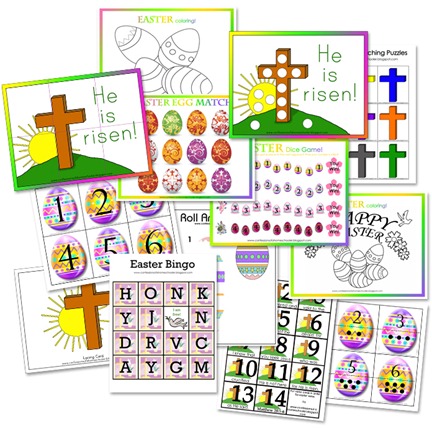 Stained Glass Cross Craft: These are super easy to do and a great idea for younger kiddos!
Tissue Paper Easter Egg: A very easy and inexpensive Easter craft!
And last but not least, here is a fun Resurrection Cookie recipe great for kids!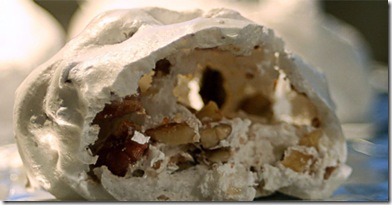 (image courtesy www.womenoffaith.com)
I hope you all have a wonderful Easter weekend celebrating our risen Lord!
If you have any fun Easter activities to share, make sure to leave a comment below, or add them to our Easter Activity Ideas in my COAH Community!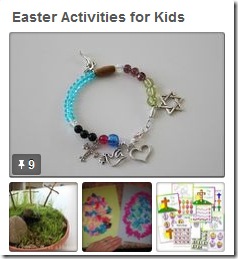 And you can check out my Easter Activities for Kids on Pinterest too!