Buon giorno and welcome to our Expedition Earth week on Italy! As a country near and dear to my heart, we enjoyed learning about our heritage,  and I even learned some new things about Italy too!
Psst….everything you see below can be found in my Expedition Earth World Geography curriculum.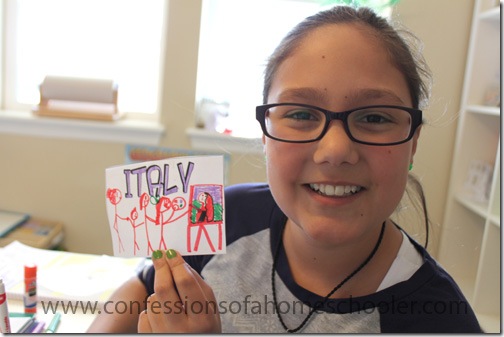 Here are some of the things we covered:
Located Italy on the map and completed our mapping worksheet
Learned about the Italian flag
How to say "Hello" & "Thank you" in Italian – Ciao, Grazie
Prayed for the Italian people
Learned a song in Italian
Completed a lapbook activity
Learned Roman Numerals
Learned about and classified 6 animals of Italy
Learn a little about Italian Opera
Vocabulary: Volcano
Learned about volcanoes, including Mt Vesuvius and made a volcano
Learn about the 5th Wonder of the World: The Roman Colosseum and made a model out of Foam Bricks.
Learn about the Leaning Tower of Piza and made a model
Learned about Michelangelo and painted upside down under a table
Made homemade spaghetti & meatballs with gelato for dessert!
Of course we started out by finding the country on our wall map and adding the flag to show we've been there!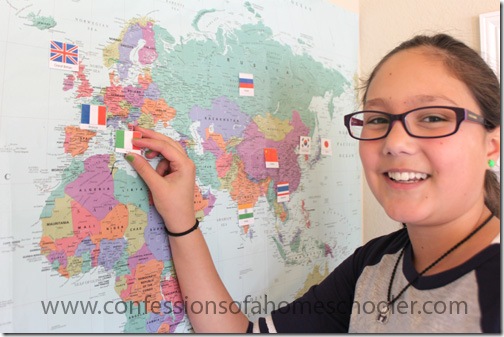 We also learned how to greet one another in Italian! And our rule is that you have to use this greeting all day long! The neighbors have probably learned as many language greetings as we have by now LOL!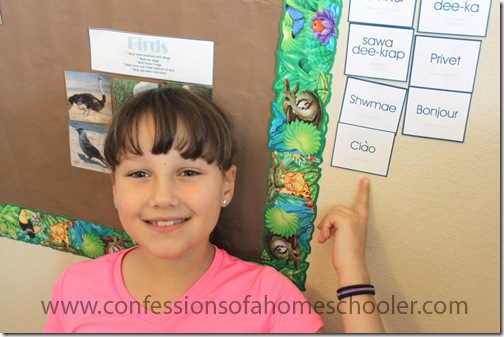 We worked on our mapping worksheet, learning the capital, population, religion, language, and major landforms of Italy.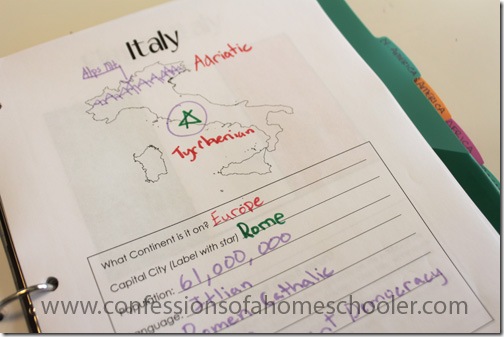 Here is Turbo marking major lanmarks on his worksheet. We use our wall map, encyclopedia, and the internet to research these.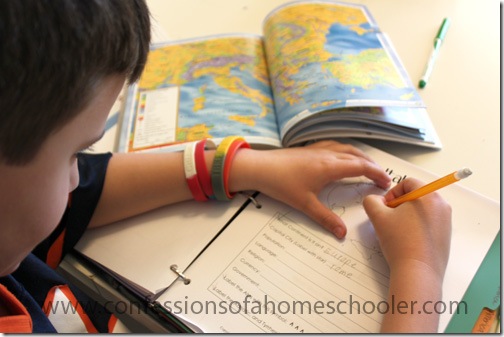 We learned all about the flag of Italy and what the colors represent.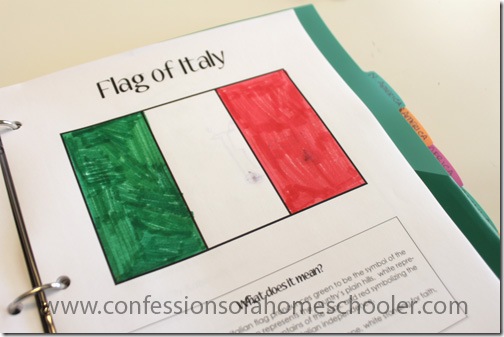 We learned all about the Roman Empire & Colosseum and watched a cool video tour as well.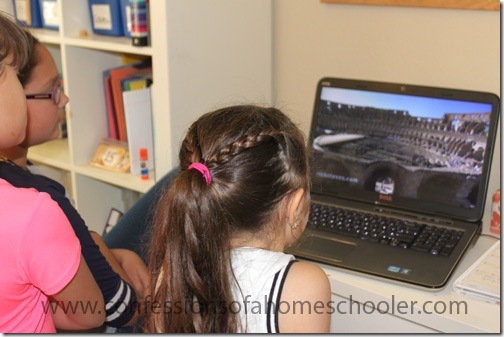 And what would a visit to Italy be without learning about the famous Mt. Vesuvius & Mt. Etna? Of course we had to watch a live video of Mt. Etna erupting as well. Because we all know that erupting volcanoes rock!! Haha, get it, rock?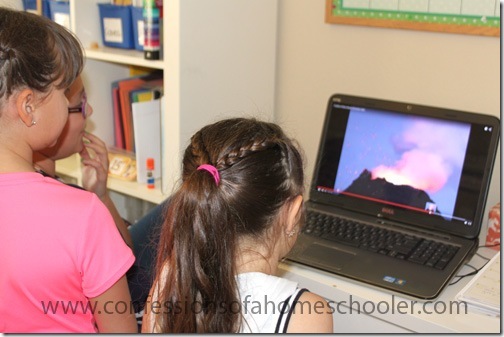 We learned how to write roman numerals, well we reviewed it, most of my kids had already learned them prior to now in their math curriculum. But it's always good to review!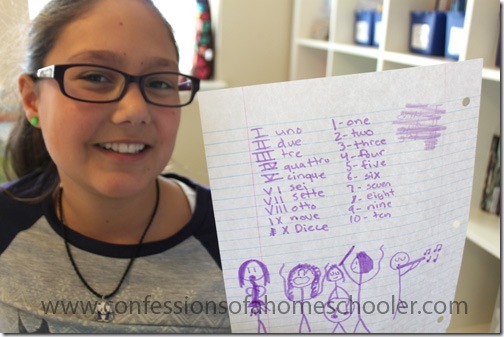 We also read a little more about the country, then mapped it using coordinates on our Usborne Interactive World Encyclopedia.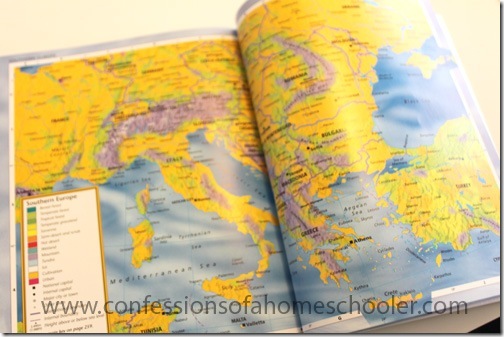 Of course we had to take a little time out to learn about Michelangelo! And everyone was excited to paint their own version of the Cistene Chapel on the bottom of my coffee tables. Just kidding…they have paper tapped up there! As if!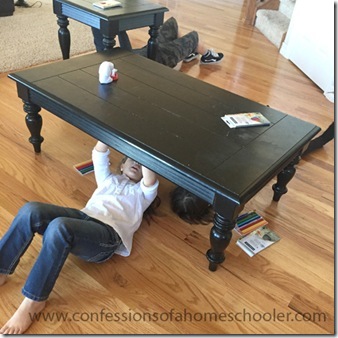 We listed our favorite fun fact about Italy on our mini-book and added it to our world lapbook.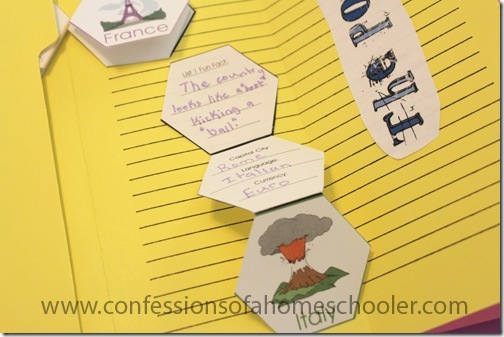 Of course we learned about some really cool animals found in Italy, added them to our animal wall (behind the kids) and then showed off our favorites!
We learned all about the Leaning Tower of Pisa and watched a video so we could see it live. I've really been enjoying incorporating YouTube videos into our homeschooling. I think it definitely makes more of an impact than just reading about something!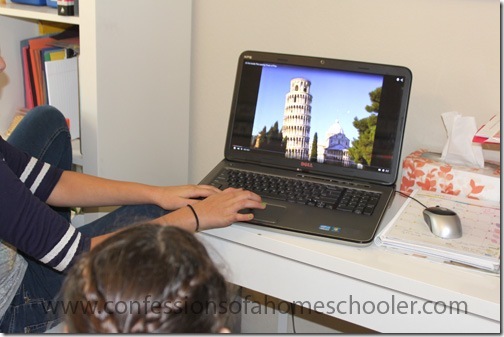 We also made fun post cards to send back to the folks at home!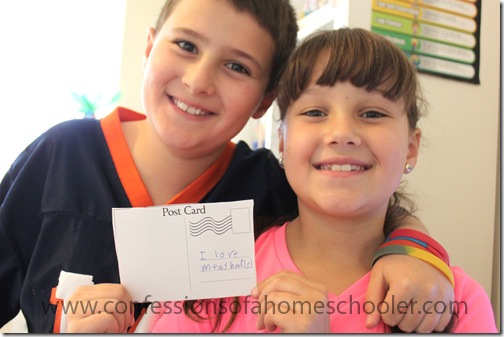 Pizzelle cookies originated in Italy, and since my family is Italian…well we eat these all the time! Most often my mom makes them at Christmas time, so whenever I see one, I get excited! Even if it's in July…it's like Christmas in July! Click here to find out how to make some Italian Pizzelle Cookies for your family too!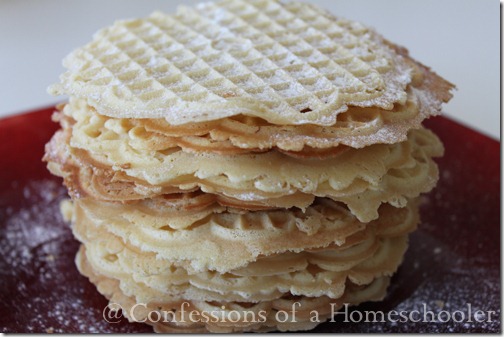 TBT 2010: Here are some throw back pics of the last time we went through Expedition Earth back in 2010!
We learned about the Roman Colosseum and Leaning Tower of Pisa then tried to make our own using FloraCraft Bricks.
We learned about Mt Vesuvius and made our own volcano explosion in the kitchen with the help of Nana.
Then Nana sat and showed us pictures from when my grandparents went to Italy years ago. It was cool to see the things we were studying in the album!
Since it snowed that week, my son took the initiative and made his own version of Mt Vesuvius out of snow:
Thanks for joining our week on Italy, next we're on to Greece!
Click here if you'd like to follow along with our Expedition Earth Geography Curriculum Journey!
Expedition Earth is a hands on world geography curriculum that covers 31 countries across the world. It is designed primarily for K-5th grade students. Students will learn the continents, oceans, people, cultures, animals, climates, try new foods, crafts and more, all through hands-on activities!