Hi everyone! I've had quite a few requests to do some more What's in the Workbox Wednesday posts for you all, so here we go! This week I wanted to show you what TinkerBell is doing. She's currently in 2nd Grade this year.
Tinkerbell (2nd Grade)
As you'll see,not everything goes in our workboxes. That is partially because I only have 5 drawers and it won't all fit, and partially because some things just don't make sense to have in a workbox like art, PE, Science, Typing, and our LEGO Education activities.
Here is her first drawer. It houses her expandable organizer tray and her Elementary Daily Learning Notebook.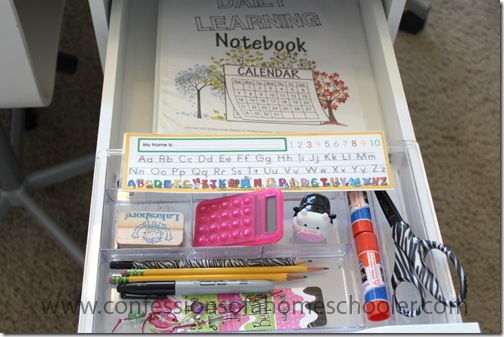 Drawer number two has her Abeka phonics and Language workbooks. I normally pull out the worksheet for the day and place it on top of the workbook so she knows what to do. I can also tell whether or not she's done it by whether or not the sheet is still in there at the end of the day.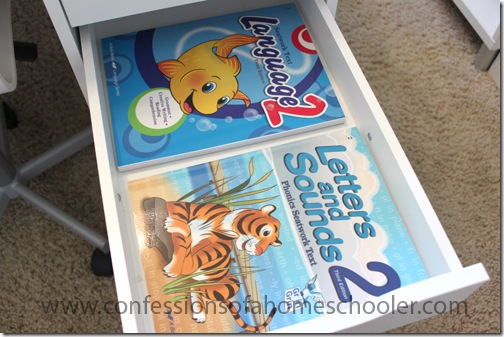 The next drawer contains her Math U See Beta and her Abeka Reading book. For the Abeka she keeps a bookmark in there and just reads the next story in the book. For math i normally pull out her sheet for each day so she knows what to do.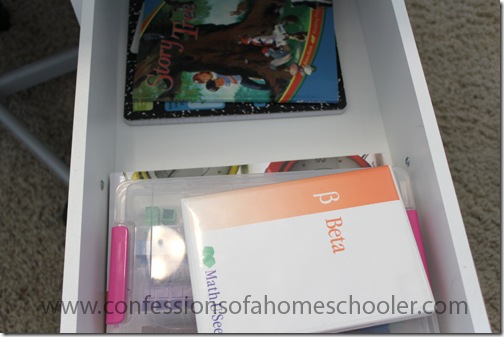 The next drawer has her BJU Handwriting and All About Spelling level 2 booklet. For those of you who have asked, I use AAS lessons and the Abeka phonics worksheets to reinforce phonic skills.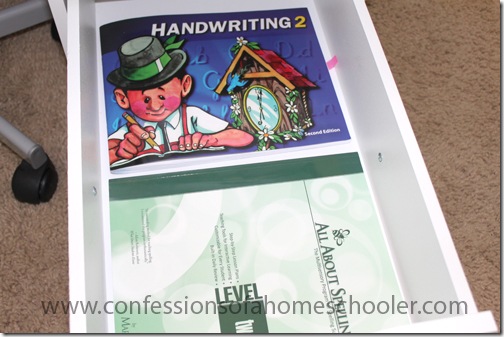 Her last drawer has our Grapevine Bible Study binder and Erasable colored Pencils as well as her  Wordly Wise workbook. I pull out the worksheets for the Wordly Wise each day, we also purchased the tests as well. For the bible study we just keep a sticky tab on our current page in the binder so it's easy to turn to each day.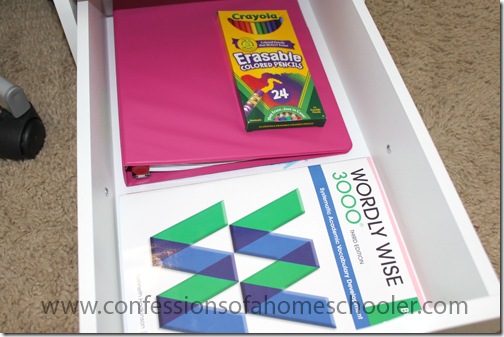 And that's it for her workbox drawers for the day! The other things are listed on her schedule so she knows she still has to do them, but they just don't make sense or fit into our workboxes.
After school is done each day I will re-fill the drawers with her new work for the next day. That way we're ready to go in the morning!
Have some great workbox ideas to share? Make sure to leave a comment below!
Click here to see more "What's in the Workbox Wednesday" posts!
If you don't know what workboxes are, click here!