Hi everyone! I always post my curriculum for each year prior to the start of our school year. But I've had some requests to post our curriculum choices by grade level to help out people trying to choose curriculum for a certain year.
I thought that would be a great idea, and if it helps you all out then double yay! I'll be starting this week with our preschool homeschool curriculum choices, and going up through the grades each Monday.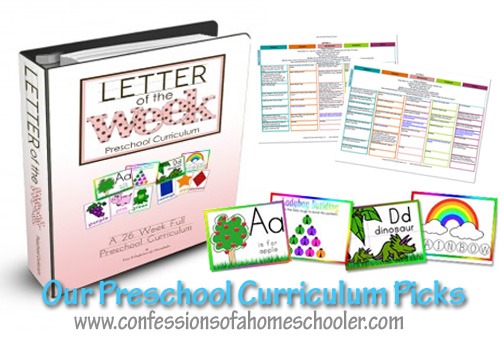 Please keep in mind that students and parents needs will differ, so what we're comfortable with may not work perfectly for you. So I'm hoping you'll just use this as a guide to help you get started in picking your curriculum. And hopefully take my choices as helpful suggestions, not what you  absolutely have to do.
Here are the basic subjects I suggest you cover for Kindergarten:
Alphabet (Recognition & Sounds)
Art & Music introduction
Bible
Calendar skills: Days of the week, months of the year
Colors
Fine motor skills: scissor skills, coloring, pasting, transferring objects
Large motor skills: Outside play, dancing, etc.
Logic skills: puzzles, matching games, size sorting, patterning
Math skills: counting, one-to-one correspondence, size sorting, least/more/most, etc.
Numbers (Recognition & Counting)
Pre-Handwriting practice
Shapes
So let's get started.
If you've been following me for awhile you know that I came out with my Preschool Letter of the Week curriculum several years ago. I'd been searching for something more fun and hands on to do with my preschooler, while still teaching the basics to get her ready for kindergarten.
I couldn't find what I was after, so I created the Letter of the Week. It's a 26 week preschool course designed to give your student a head-start on preparing for kindergarten.  It's full of educational activities that focus on the letter recognition, sounds, number recognition, counting, basic math skills, pre-writing practice, and all the necessary fine-motor skills that will be required for your preschooler to be ready for kindergarten! I also created daily lesson plans to make it easier for you to follow along with.
Each letter comes with a variety of activities built around that week's theme. Below is a sampling of the Letter A activities: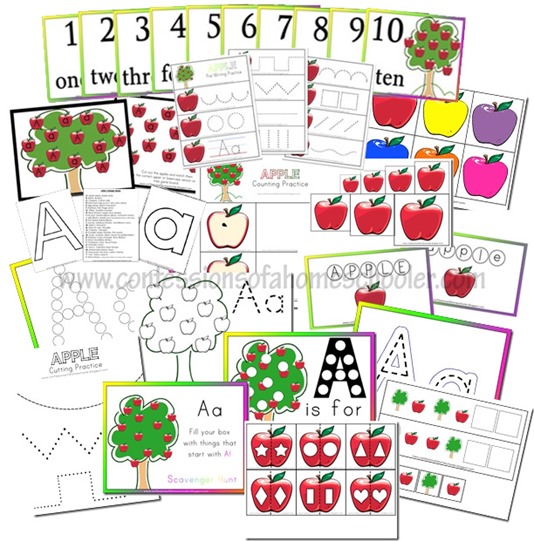 So of course for my main preschool choice, I suggest the Letter of the Week preschool curriculum. There are also additional optional suggested items that we used with it as time allowed.
These aren't really required to get you through preschool, but they were some fun extras that we did. Here's a list of some of the things that I added in to my preschool lessons:
Preschool Curriculum: Letter of the Week
Daily Learning Notebook (Preschool Version)
Art: World's Greatest Artists Vol. 1. I also include plenty of free time art projects, play-doh, painting, drawing, pastels, etc. I love the Home Art Studio DVDs they have really fun art projects by grade level. I also love the Deep Space Sparkle website, she has tons of free art ideas for kids also sorted by grade level!
P.E.: Family Time Fitness or just add some daily outside playtime to your schedule! Head to the park, go on a walk or bike ride, play kick ball, ride scooters, etc.
Song time: Hide 'Em in Your Heart Vol 1
Read together often! We like to head to the library and get fun books to read together. I also have an A-Z reading list in the Letter of the Week curriculum that you are welcome to use as a guide.
If your preschooler is your oldest student I would suggest keeping things simple. You could always start out with the Letter of the Week activities and add in anything you feel like your child is ready for as you go. But make your days fun and engaging, avoid boring worksheets there will be plenty of those later on!
If your preschooler is not your oldest, I suggest incorporating them into your older students studies wherever possible. For example we all do science experiments together, or history projects. We also like to do read-a-louds together, Bible studies, and art projects. Of course I don't expect my preschooler to write a report on ancient Egypt, but they can certainly participate in an Egyptian Mummy Experiment, build a 3D Rainforest Diorama, or work on the Roman Colosseum !
Alternative ideas:
If my Letter of the Week is too much printing & preparation for you, go for something easier. There are plenty of pre-printed preschool level workbooks out there that you can use as a supplement to your learning. I would just make sure to take it easy on the worksheets and make sure to intersperse them with other more engaging activities. There will be plenty of time for your student to sit at a desk doing worksheets when they're older!
Make sure to add in a variety of activities each day to cover the basic skill sets, work their fine motor skills, logical/problem solving skills, and creative thinking and imagination and you'll be all set! And make sure to have fun! If you'd like to make up your own preschool curriculum I also have a ton of  free preschool printables you're welcome to use!
Final Advice for preschool:
When preparing your curriculum for preschool I think the best advice I can give you is to keep it simple and engaging. Pick lots of hands-on fun learning, and get them excited about school.
There's a huge push right now to learn more and more, faster and sooner. Unfortunately I think it's creating a certain level of stress on parents and students both. Kids aren't as excited about learning and honestly after watching my own kids grow and learn, I don't think this aggressive stance is beneficial in any way. All of my kiddos have picked things up as they were ready for them. I hasn't mattered how early I started them, or how hard I pushed.  So keep preschool fun!
I hope this has helped you in planning your homeschool curriculum for preschool!
Disclosure: Some of the links in this post are affiliate links which means I get a small percentage if you purchase through my link. That said, please know that I do NOT recommend anything unless we like and use it!!