Pizzelle cookies originated in Italy, and since my family is Italian…well we eat these all the time! Most often my mom makes them at Christmas time, so whenever I see one, I get excited! Even if it's in July…it's like Christmas in July!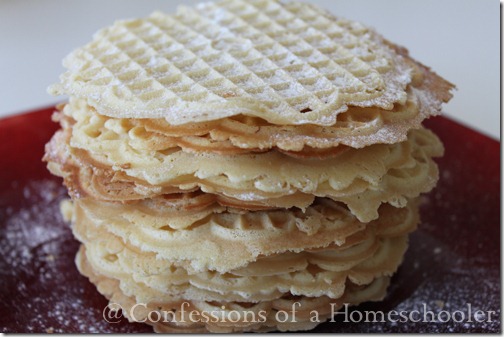 It's a family tradition to make them, and when time allows we do it together with my kiddos and mom now to carry on the tradition to future generations!
Now that I'm thinking about it, we even left these little wafers out for Santa Claus when we were little too! I suspect my dad ate them, leaving a few crumbs behind for effect and all.
My kids love them, my husband loves them, everyone loves them! I haven't met a non-Pizzelle lover yet come to think of it…hmm…
Anyway, this is a secret family recipe from my authentic Italian mama. I've kept this recipe secret forever now, so please don't share it with anyone! It's just a special treat for you! ;o)
Ingredients/Supplies:
6 eggs, beaten
1 1/2 C sugar
2 t vanillla
2 sticks MARGARINE softened (melt then cool this if it's right out of the refrigerator…NO YOU MAY NOT USE BUTTER!)
3 1/2 C flour (sifted 3 times)
2 tsp baking powder
Pizzelle Iron (I have a Cucina Pro)
Optional: Powdered Sugar
Directions:
Beat eggs slowly and add sugar. Continue beating sugar and egg mixture until smooth.
Slowly beat in cooled but softened margarine and vanilla.
Sift flour and baking soda together at least three times, then mix into batter.
Drop approximately 1 Tablespoon size of batter onto the Pizzelle Iron and bake until the light turns green, or pizzelles are a nice light golden color.
Optional: Sprinkle with powdered sugar and enjoy!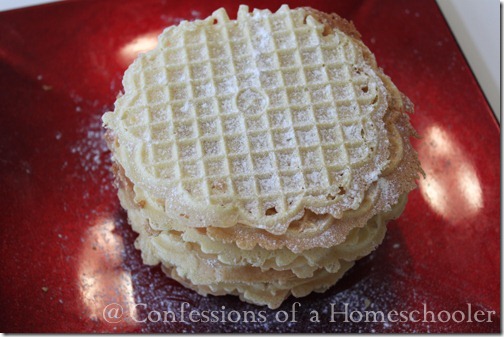 And for those of you trying to watch your girlish figure this holiday season…one of the best parts about these delicious bites of yummy goodness…they're only 1 weight watcher point! Whoo hoo!!
Buon appetito miei amici!
I'm posting this as part of the "Cookie A Day Until Christmas" series!
Make sure to go over and check them out yourself for some scrumptious cookie ideas this holiday season!