Welcome to July's Monthly Meal Plan Recipes! I hope you are all having a wonderful summer, playing with kiddos, enjoying relaxed evenings, and not fretting about what's for breakfast, lunch, snack, and dinner each day!
For my monthly meal plan, I usually shop on the weekend and only get what I need to complete the meals on my list. If I can find things in bulk on sale that will last I'll grab them, but I still shop for produce weekly.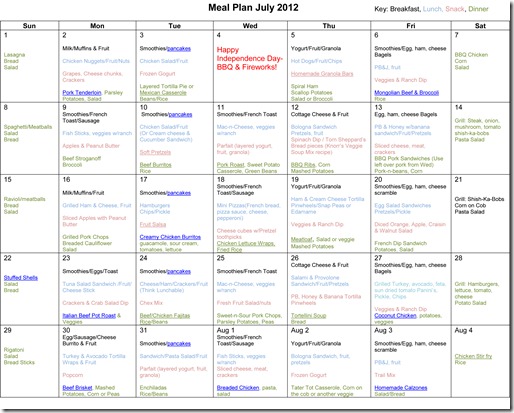 Download the July 2012 Monthly Meal Plan:
I have also discovered that you can purchase strawberries, blueberries, raspberries , onions, and bell peppers in bulk when they're on sale! All you have to do is spend a few minutes chopping them up when you get home. Place them in sandwich sized freezer bags and freeze until you're ready to use! They thaw very fast and since they're already chopped, that saves you some time!
Enjoy!