Okay, so how many of you were curious about those delicious looking little biscuits behind my Ham and White Bean Soup recipe last week?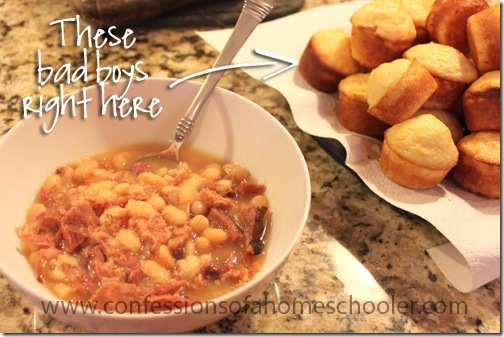 Oh my, they're so yummy! And if any of you have a Jim-n-Nicks BBQ around you, you'll recognize them.
I'll tell ya what…these are knock-offs, but they taste the same and you can make them yourself!
Ready?
Ingredients:
1 1/2 cups flour
3/4 cup sugar
1 1/2 teaspoon baking powder
4 tablespoon butter, melted
3/4 cup buttermilk (Found in the dairy isle by the milk. You can substitute whole milk, but why?) 
1 egg, beaten well
1/4 teaspoon vanilla
1 cup shredded cheddar cheese
Directions:
Preheat oven to 400 degrees Fahrenheit.
Add the dry ingredients (flour, sugar, and baking powder) in a bowl and then cut in the butter with a fork until well mixed. Add in the finely shredded cheese and mix well.
Next mix buttermilk, egg, and vanilla together and pour into dry mixture and stir. Batter will be lumpy.
Spray a mini-muffin pan with cooking spray, then fill each cup about 3/4 of the way full.
Bake your scrumptious muffins for about 15-20 minutes or until golden on top and serve warm! Maybe even with a little honey butter if you're feeling like spoiling your family.
These guys are an awesome side to a BBQ dinner, just about any soup, or on their own!
Makes about 12 muffins. (I doubled the recipe because for us, 12 muffins are gone in 60 seconds.)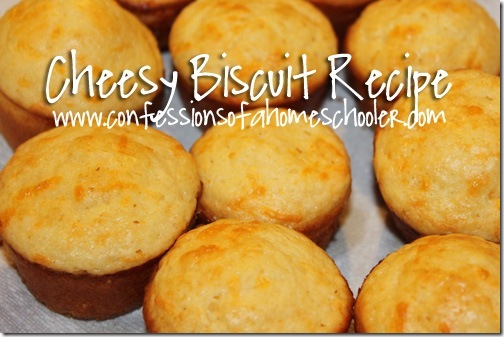 Honey Butter:
1/2 Cup butter softened
1/2 cup honey
Mix together, and spread on the cheesy biscuits while they're warm.
You can thank me later ;o)