I found this beautiful Fall Chopped Salad recipe a few weeks ago and knew it would be a crowd pleaser! Plus it's so colorful and fun looking that it will go great with just about any dish!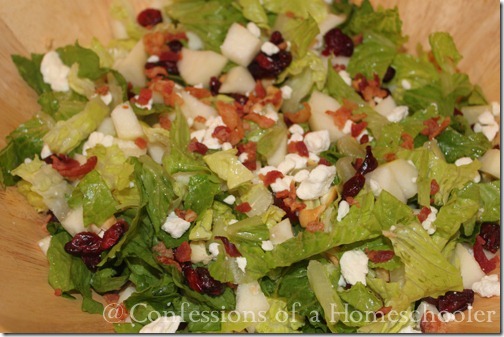 I modified the recipe a bit from the original to fit our family better, and it was just as  yummy and I knew my kiddos would eat it.
Ingredients:
4 cups chopped romaine lettuce
1 medium pear, peeled and chopped
1/2 cup dried cranberries
1/2 cup chopped pecans (You can also use cashews in this!)
1/2 cup bacon bits
2 T. crumbled feta cheese (I will omit this next time as my kiddos weren't that fond of the feta)
Poppy Seed Salad Dressing
Balsamic Vinaigrette (Newman's Own Light Balsamic Vinaigrette)
Directions:
Chop lettuce, pears, and nuts well. Combine all ingredients in a large salad bowl. Drizzle with poppy seed salad dressing and balsamic vinaigrette. I used about 1/4 c. vinaigrette, and 1/2 c. Poppy Seed Dressing. (Serves approx. 6 people…a few adults and a some little guys too.)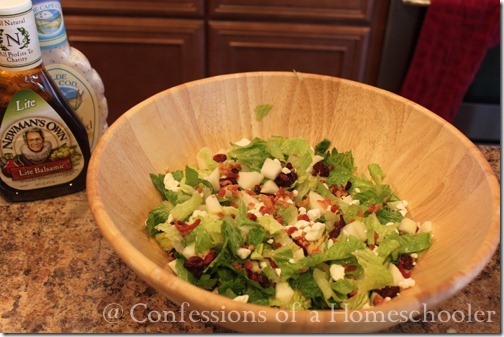 Serve with your favorite meal!
Hope you enjoy this colorful fall salad.
Psst…you can eat it in the anytime, not just fall! ;o)
Have a fall recipe you'd like to share? Make sure to leave a comment below and spread the yummy goodness with others!