Hi everyone! We had such a great turn out and response from the FREE Parenting Webinar we did a few weeks ago, that Amy has agreed to let me post the webinar recording for all of you who missed it!
Since it is a recorded session, you won't be able to ask questions, but you can see the chat session where people asked different things and Amy answered them, so hopefully some of that will still benefit you!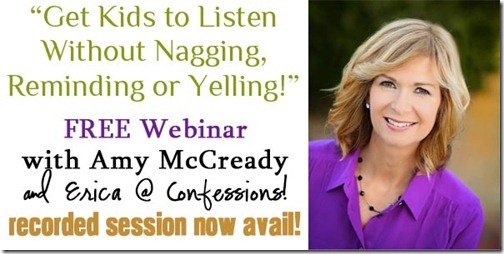 If you missed it last time, Amy McCready is the Founder of Positive Parenting Solutions and a "recovering yeller." She is a champion of positive parenting techniques for happier families and well-behaved kids. Amy reaches a worldwide audience with her Positive Parenting Solutions Online course and is a frequent guest on the TODAY Show and has also appeared on Rachael Ray, CNN, Fox & Friends, MSNBC, and elsewhere. In her most important role, she is mom to two teenage boys.
What's the Webinar About?
Get Kids to Listen Without Nagging, Reminding or Yelling (And who couldn't use some help in that area right!?)
Why is it so difficult sometimes to get kids to listen? You know she heard you, but she ignores you. You ask again and still . . . no response. If you're tired of nagging, reminding and yelling to get kids to listen–this session is for you!
Special Pricing for YOU!
If you enjoy the session and would like to subscribe to Amy's online video sessions, she is offering 10% off of her packages just for my readers! Just use coupon code: CONFESSIONS10 when you check out to get your discount!
–> Click here to WATCH THE FREE SEMINAR! <–
I hope you enjoy the seminar, I'm sure we'll be doing another one soon!
Thanks so much to Amy for sharing the webinar on my blog for everyone who couldn't make it last week!
Happy Parenting :o)