Good morning my awesome readers! I just wanted to take a minute to say that you guys are the BEST! I am so blessed and honored to be nominated for this year's HSBA Homeschooling Awards!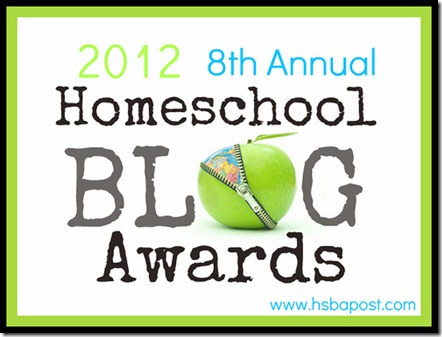 If you haven't heard of them before, each year the HSBA Post blog puts on a huge awards event for homeschool bloggers everywhere. There are tons of great prizes, along with many new blogs to be discovered and supported. Plus it's just lots of fun to be a part of! There are also lots of new homeschooling blogs out there as well, so it's a great place to find new and fun ideas for your own homeschool.
Thank you so much to everyone who nominated me this year, I am continually surprised, blessed, and encouraged to have all of your wonderful support!  
(Click the button below to cast your vote.)

The Polls will be open November 4th, 2012 at 12:01 a.m. Pacific Time (PST) and will close on November 16th, 2012 at 11:59 p.m. Pacific Time (PST). You may vote once per day for each category.
Voting is now open, so make sure to stop by and share a little love and support with your favorite bloggers! Click here to see all of the awards categories available!
Happy Voting!