Welcome to easy Summer Boredom Busters for kids! Today we're having fun with sponges!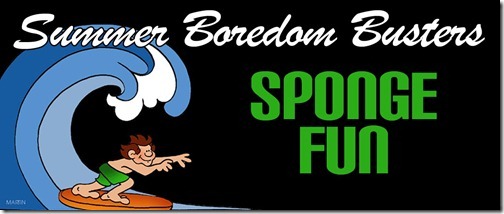 I found this fun idea at Make and Takes today and wanted to give it a try!
Supplies:
Some colorful household sponges (3 sponges per ball)
Scissors
Dental Floss or zip-ties
Paint
Blue construction paper
Some willing participants
Directions:
Step 1: Cut the sponge in quarters. I started by cutting one sponge in half lengthwise.
Next I cut each of those halves in half again so you end up cutting 4 pieces per sponge.
Tip: You can also cut the sponges along the shorter side to create smaller balls!
Step 2: Next we piled up all our pieces and mixed the colors up.
Step 3: Gather 12 different colored strips and twist tight. You'll need a partner to help you with this step as it's very difficult to hold and tie all by yourself!
Step 4: Using a piece of dental floss, string, or a zip-tie, tie the center of the sponges to secure in place.
Step 5: Fluff up your sponges!
Step 6: Bring your sponges to the pool with you this summer, or in the bathtub for some added water fun! You can also fill up some buckets of water and add the sponges. Have kids do a sponge toss, you can either have them try to toss the sponges into a bucket for points, or toss them to each other! Just be prepared to get a little wet! But who doesn't love a little water spritz on a hot summer day!
Sponge Painting:
For some alternative sponge crafts,  grab some tempera paint and create some cool art with your sponges, they make great texture. Might I suggest a Great Barrier Reef painting?
We cut some smaller chunks for the painting for detailed areas, then used the small sponge balls for larger areas. The kids loved the textures they created with their sponges!
Here is one of our finished pieces:
Enjoy your summer sponge fun!