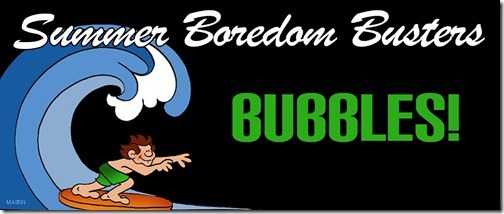 Welcome to another day of Summer Boredom Busters, today we're having fun with homemade bubbles! Who doesn't love bubbles right? Well, look no further, welcome to the Do-It-Yourself giant bubble wand!
Supplies:
2 wooden dowels per student
2 hook and eye screws per student
cotton string
scissors
duct tape optional
Directions:
1. Screw 1 hook and eye screw into the end of each dowel.
2. Using string, tie ends to each hook and eye screw at top of dowel, let remaining string hang down in a half circle shape and tie at bottom.
3. I cut my dowels in half to shorten them. To keep kids from getting splinters, I wrapped some pink duct tape on the ends. Plus they look pretty

) Also, I suggest using smooth cotton string, mine was at the end of the spool, so it kept twisting up.
4. Dip string in bubbles making sure to soak well. Carefully lift out of bubbles and slowly pull sticks apart until string is taught. Gently pull through air to create huge bubbles!
Love the look on my son's face in this one:
If there's no breeze, you can also blow gently to help them get started! We had to move to the side of our house because there was too much wind and our bubbles were popping right out of the shoot!
No bubbles? Make your own!
1/2 gallon water
1/3 cup dawn dishwashing liquid
3 tablespoons light corn syrup or sugar
Enjoy your super cheap summer fun bubbles!