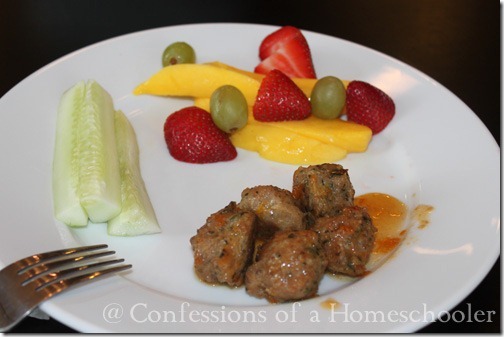 I have another great healthy kids lunch recipe to share with you today! Yet another idea from Fit Yummy Mummy! She's actually making all of her lunches into a cookbook, so make sure to stop by and check it out!
Today's lunch menu:
Sweet-n-Sour Turkey Meatballs
Fruit of your choice (We had mango, strawberries and grapes)
Cucumber slices
Turkey Meatballs:
1 lb ground turkey
1/4 cup Shredded parmesan cheese
salt and pepper to taste, or Lowry's seasoning
Mix above ingredients together and roll into 1" meatballs. Bake meatballs at 350 degrees for about 30 minutes or until golden brown.
Sauce:
1 jar apricot jam
1/2 cup low sodium soy sauce
Pour both of the above into a sauce pan and heat over medium heat stirring to mix well. Pour warmed sauce over cooked turkey meatballs and serve!
TIP: Double the recipe and then freeze half of the cooked meatballs (without sauce). Next time just pull them out of the freezer and re-heat for a fast, healthy lunch!
Have some great healthy lunch ideas to share? Leave a comment below!